The Death Class: A True Story About Life (Hardcover)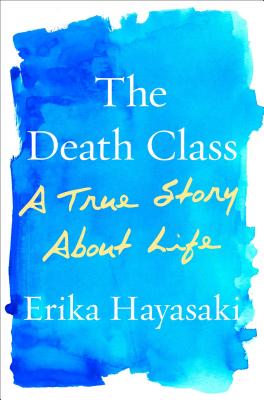 Description
---
In this gripping true story, an extraordinary professor who teaches a popular course on death plunges deep into the off-campus hours of her most vulnerable students and shows them how to live.

Why does a college course on death have a three-year waiting list?

When nurse Norma Bowe decided to teach a course on death at a college in New Jersey, she never expected it to be popular. But year after year students crowd into her classroom, and the reason is clear: Norma's "death class" is really about how to make the most of what poet Mary Oliver famously called our "one wild and precious life."

Under the guise of discussions about last wills and last breaths and visits to cemeteries and crematoriums, Norma teaches her students to find grace in one another. By following her over four years, award-winning journalist Erika Hayasaki shows how Norma steers four extraordinary students from their tormented families and neighborhoods toward happiness: she rescues one young woman from her suicidal mother, helps a young man manage his schizophrenic brother, and inspires another to leave his gang life behind. Through this unorthodox class on death, Norma helps kids who are barely hanging on to understand not only the value of their own lives, but also the secret of fulfillment: to throw yourself into helping others. Hayasaki's expert reporting and literary prose bring Norma's wisdom out of the classroom, transforming it into an inspiring lesson for all. In the end, Norma's very own life—and how she lives it—is the lecture that sticks.
About the Author
---
Erika Hayasaki spent nine years as a reporter for the Los Angeles Times before becoming an assistant professor in the Literary Journalism program at the University of California, Irvine. She is a recipient of the Los Angeles Times Best Writing Award, the Association of Sunday Feature Editors Award, and the American Society of Newspaper Editors Breaking News Award.
Praise For…
---
"Readers will come away struck by Bowe's compassion—and by the unexpectedly life-affirming messages of courage that spring from her students' harrowing experiences."

"[Hayasaki] skillfully weaves together difficult stories, finding unexpected connections….The book's strength lies in the well-observed details of the lives portrayed, and in the recognition that the work Bowe and her students are doing is messy, necessary stuff. Hayasaki acknowledges this by bookending chapters with writing prompts from Bowe's syllabus—'Be a Ghost'—as if to encourage readers to consider the big questions on their own."

"By chronicling the stories of Bowe and four of her students, Hayasaki imbues the austere topic of death with tangible narrative immediacy. It's a book of powerful scenes."

"At its heart, this book spotlights a bumpy but certain road to resurrection and imparts its wisdom as it traverses a drama-filled landscape, one pocked with suicides and cold-blooded murder, abuse and addiction. . . . The Death Class manages to glide gracefully and delicately through the parts — say, the autopsy table — where you're sure you'll retch, if you can even keep your eyes on the page. And for sticking with it, you're rewarded with poetic passages and assorted revelations you'll likely not forget. . . . Hayasaki, through Bowe, drums in the essential lessons of how by finding purpose beyond ourselves, we infuse our lives with meaning and lessen our fear of death."

"Year after year, Norma Bowe faces a waiting list of students wanting to get into her death class at a college in New Jersey. Beyond the probing about last wills and good-bye letters and class trips to mortuaries and cemeteries is the underlying truth that a good, long stare at death can trigger a deeper appreciation of life…Award-winning journalist Hayasaki spent four years following Bowe and her class and…offers a completely engaging look at death and the meaning of life."

"Who would want to take a class on death? Everyone, it turns out. Norma Bowe, the most popular professor on campus and instructor of 'Death in Perspective' at Kean University is an unsung hero of our day. Erika Hayasaki takes us on an unforgettable journey with Bowe and the many people in her orbit touched by her wisdom and compassion. Erika's book is the last lesson you'd ever need on life."
— Ruth Davis Konigsberg, author of The Truth About Grief: The Myth of Its Five Stages and the New Science of Loss

"The Death Class is at once puncturing and redemptive, sharing humanity's most painful, violent face while at the same time revealing a fierce optimism and stunning generosity. It is more than a glimpse of a remarkable educational experiment. It shares the story of an extraordinary teacher whose very life is the class while weaving together the lives of students who struggle with complex, tormenting problems and find grace in each other. Its stories have lodged in me and will not soon let me go."
— Erica Brown, author of Happier Endings: A Meditation on Life and Death

"This is a beautiful book about courage—the courage to turn and face your own life and death, and the courage to make a difference in the lives of others. The Death Class points to a way of living fully, gratefully, and meaningfully every day."
— Elizabeth Lesser, author of Broken Open and cofounder of the Omega Institute
Coverage from NPR