A Good Man Is Hard to Find: And Other Stories (Compact Disc)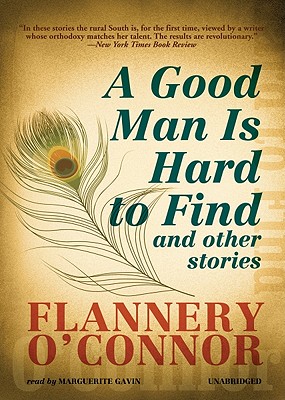 This title is hard to find, please call the store for our current availability.
Description
---
This now classic book revealed Flannery O'Connor as one of the most original and provocative writers to emerge from the South. Her apocalyptic vision of life is expressed through grotesque, often comic situations in which the principal character faces a problem of salvation: the grandmother, in the title story, confronting the murderous Misfit; a neglected four-year-old boy looking for the Kingdom of Christ in the fast-flowing waters of the river; General Sash, about to meet the final enemy.
Stories include: "A Good Man Is Hard to Find""The River""The Life You Save May Be Your Own""A Stroke of Good Fortune""A Temple of the Holy Ghost""The Artificial Nigger""A Circle in the Fire""A Late Encounter with the Enemy""Good Country People""The Displaced Person"
This is the collection that established Flannery O'Connor's reputation as a one of the American masters of the short story.