Advanced Bushcraft: An Expert Field Guide to the Art of Wilderness Survival (Paperback)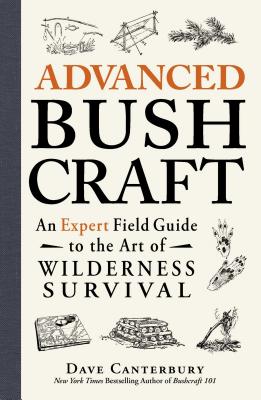 Description
---
Trek deeper into the wilderness with New York Times bestselling author Dave Canterbury!

In this valuable guide, survivalist Dave Canterbury goes beyond bushcraft basics to teach you how to survive in the backcountry with little or no equipment. Using the foundation you learned in Bushcraft 101, Canterbury shows you how to completely immerse yourself in the wilderness with advanced bushcraft and woodcraft techniques. He covers crucial survival skills like tracking to help you get even closer to wildlife, crafting medicines from plants, and navigating without the use of a map or compass. He also offers ways to improvise and save money on bushcraft essentials like fire-starting tools and packs. With Canterbury's expert advice and guidance, you will learn how to forgo your equipment, make use of your surroundings, and truly enjoy the wilderness.

Whether you're eager to learn more after your first real outdoor adventure or have been exploring the backcountry for years, Advanced Bushcraft will help you take your self-reliance and wilderness experience to the next level.
About the Author
---
Dave Canterbury is the coowner and supervising instructor at the Pathfinder School, which USA TODAY named as one of the Top 12 Survival Schools in the United States. He has been published in Self Reliance Illustrated, New Pioneer, American Frontiersman, and Trapper's World. Dave is the New York Times bestselling author of Bushcraft 101; Advanced Bushcraft; and The Bushcraft Guide to Trapping, Gathering, and Cooking in the Wild.
Praise For…
---
"The book is about survival in the sense that you are getting deeper skills than what you might normally get into, like preserving acorns for flour.... You will definitely learn something from this book." --ShadowFox