ACT English, Reading, and Writing Workbook (Barron's Test Prep) (Paperback)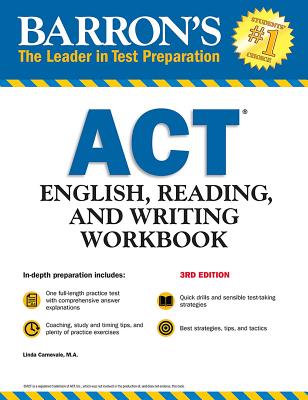 Description
---
This updated workbook provides college-bound students with extensive practice and review in all three verbal sections across all four reading genres of the ACT. The introduction clearly explains the format and timing for the ACT's English Test, Reading Test, and Writing Test. A full-length self-assessment test follows with an answer key and thorough explanations to help students assess their strengths and weaknesses.
Additional features include:
Coaching, study and timing tips, and plenty of practice exercises
Quick drills and sensible test-taking strategies
A full-length practice test with detailed answers and explanations
Students can use this workbook to learn and review the conventions of English grammar, punctuation, and style, as well as sharpen their evidence-based reading comprehension with practice passages in the Humanities, Natural Science, Prose Fiction, and Social Science. They can also hone their essay-writing skills, guided by the author's instruction in tackling the ACT essay, timing plans, and answering the essay prompt thoroughly and effectively.
About the Author
---
​About the Author
Linda Carnevale holds a Master of Arts from Columbia University's Teachers College. Formerly an English teacher at Cold Spring Harbor High School, Long Island, New York, she currently prepares students for the ACT and SAT and is the author of Barron's Hot Words for the ACT, Hot Words for the SAT, SAT 1600: Aiming For the Perfect Score, and ACT English, Reading, and Writing Workbook, and she has also been published in a variety of local and national publications. Her poem "Daisies Grow on My Windowsill" was recently selected for publication in an anthology of poems about Long Island.

About the Publisher
In the 1930s, Manuel H. Barron opened a bookstore in Brooklyn, New York.

People from the community asked Mr. Barron about books that might be available to help their children study for the New York State Regents exams. After realizing there wasn't anything available, Mr. Barron's created his own study guides.

80 years later, Barron's has helped millions of people prepare for their next step.