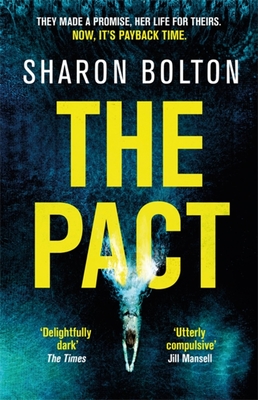 $15.99

Available from our Warehouse (Not in store currently)
Description
---
'Fast-moving, addictive and thoroughly satisfying,' Jane Casey
'The Secret History for Millennials' Belinda Bauer
'You won't be able to put this book down.' Jo Spain
'Another terrifying, shudder-making, utterly compulsive read' Jill Mansell
'Clever, compelling and unexpected' Rachel Abbott
'So compelling, so addictive' Samantha Downing
'Clever, suspenseful' Cara Hunter
'Horrifying and addictive' Catherine Cooper

**********
A golden summer, and six talented friends are looking forward to the brightest of futures - until a daredevil game goes horribly wrong, and a woman and two children are killed.

18-year-old Megan takes the blame, leaving the others free to get on with their lives. In return, they each agree to a 'favour', payable on her release from prison.

Twenty years later Megan is free.
Let the games begin . . .

**********

Richard & Judy bestseller Sharon Bolton is back, with her twistiest thriller yet.
About the Author
---
Sharon (formerly S J) Bolton grew up in a cotton-mill town in Lancashire and had an eclectic early career in marketing and public relations. She gave it up in 2000 to become a mother and a writer.
Her first novel, Sacrifice, was voted Best New Read by Amazon.uk, whilst her second, Awakening, won the 2010 Mary Higgins Clark Award (part of the prestigious Edgars) in the US. She has been shortlisted for the CWA Gold Dagger, the Theakston's Prize for Best Thriller, the International Thriller Writers' Best First Novel award, the Prix Du Polar in France and the Martin Beck award in Sweden.
Praise For…
---
Sharon Bolton brilliantly skewers a group of over-privileged rich kids. It's a pleasure to watch them discover that actions have consequences as the plot unfolds. Fast-moving, addictive and thoroughly satisfying, this is another winner from one ofmy favourite crime writers.—Jane Casey, author of LET THE DEAD SPEAK

The Secret History for Millennials - the twists start early and only get tighter in this compelling thriller about betrayal, crime and class.—Belinda Bauer, author of EXIT

Clear your diary and knock off your phone because you won't be able to put this book down. With THE PACT, we're in the hands of a master thriller writer, one who builds the tension with a perfectly paced plot until a breathless, shocking conclusion.—Jo Spain, author of THE PERFECT LIE

Another terrifying, shudder-making, utterly compulsive read from Sharon Bolton.—Jill Mansell

A clever, compelling and unexpected story with a rich cast of diverse characters. I've long been a fan of Sharon Bolton's writing, but she has excelled herself with The Pact.—Rachel Abbott

It snares the reader from the start with its inventive hook and the relentless narrative powers through twist after twist. A hugely enjoyable read—Sunday Express

Not many books are truly unputdownable, but you can add The Pact to that coveted list. This book is so compelling, so addictive, it had me hooked from the first chapter to the last. Get this one on your summer list!—Samantha Downing, Sunday Times bestselling author of My Lovely Wife and He Started It

A clever, suspenseful exploration of responsibility, retribution, and friendship tested to destruction.—Cara Hunter, author of THE WHOLE TRUTH

A highly original premise delivered with considerable panache and visceral tension—Irish Independent

This book has everything - a terrible event, years of guilt and lies, toxic friendships and a cast of characters which leaves you trusting no one. Horrifying and addictive.—Catherine Cooper, author of THE CHALET

A brilliant premise and relentless narrative, with a twist I didn't see coming at all.—Claire McGowan

I loved this creepy, twisty, compelling read. Sharon Bolton is the queen of ultra-tense, claustrophobic stories and characters you care about even though they are far from snow white. Needless to say I did not see the ending coming.—Cressida McLaughlin

Absolutely demolished The Pact by Sharon Bolton. What a killer premise! It's a terrifying exploration of toxic friendship and how bad decisions you make when you're young can haunt you forever—Robin Morgan-Bentley

I couldn't wait to tweet this as #bookpost before diving in - then I devoured it in one sitting. The Pact is a brilliantly crafted thriller about some friends who make a promise that's hell to keep! Gripping from start to finish.—Michelle Davies

You won't be able to turn the pages fast enough. A thriller with so many twists and turns you may need to take a travel sickness tablet before reading.—John Marrs, author of THE ONE

A real atmosphere of dread permeates every page of THE PACT. You can't help but wonder what you'd do in the impossible situations these characters find themselves in - and what *they* do makes for a dark, elegant page-turner.—Catherine Ryan Howard, author of 56 DAYS

A highly enjoyable thriller about privilege, blame and the consequences of lies.—CS Green, author of SLEEP TIGHT

A deliciously addictive thriller that kept me guessing all the way through. Perfect for your summer holiday.—Katherine Faulkner, author of GREENWICH PARK

What a read, I loved it so much. I was totally invested in the characters from the very first page. So so gripping!—Lisa Hall, author of THE PERFECT COUPLE

The ever-ingenious Sharon Bolton puts a fresh spin on the familiar formula . . . deliciously compelling—Daily Mirror

Reminiscent in particular of Donna Tartt's The Secret History . . . A delightfully dark game of consequences—The Times

Sinister and gripping—Literary Review

A remarkable novel: part puzzle, part morality play . . . a page-turner—Shots Magazine