Why Did You Stay?: The instant Sunday Times bestseller: A memoir about self-worth (Hardcover)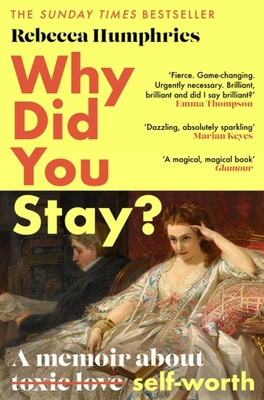 $28.99

Available from our Warehouse (Not in store currently)
Description
---
'Fierce. Game-changing. Urgently necessary. Brilliant, brilliant and did I say brilliant?' EMMA THOMPSON
'Pacy, vivid, compelling and very, VERY funny ... it will help so many' MARIAN KEYES
'A fucking classic. Required reading for all women and men and I believe it's going to be the book of 2022' BRYONY GORDON
'Fuck, this is good. Every page feels important' LUCY VINE


Actor, writer and hopeless romantic Rebecca Humphries had often been called crazy by her boyfriend. But when paparazzi caught him kissing his Strictly Come Dancing partner, she realised the only crazy thing was believing she didn't deserve more.

Forced into victimhood by the story, Rebecca chose to reclaim her power, posting her thoughts on social media, including advice for other women who might be experiencing what she realised she'd managed to escape: a toxic, oppressive relationship. A flood of support poured in, but amongst the well-wishes was a simple question with an infinitely complex answer: 'If he was so bad, why did you stay?'

Empowering, unflinching and full of humour, this book takes that question and owns it. Using her relationship history, coming of age stories and experiences since the scandal during Strictly, Rebecca explores why good girls are drawn to darkness, whether pop culture glamourises toxicity, when a relationship 'rough patch' becomes the start of a destructive cycle, if women are conditioned for co-dependency, and - ultimately - how to reframe disaster into something magical.

'The best [book] about relationships since Three Women' CAROLINE SANDERSON, THE BOOKSELLER
'So funny and heart-breaking. So stunningly written. For any woman who has been asked 'why did you stay?', Rebecca Humphries' book is a hilarious and brilliant read' SUSAN WOKOMA
'Very, very good' PANDORA SYKES
'A magical, magical book' GLAMOUR
'So thoughtful and moving and funny and sad and great, I love it so, so much. I resented having to put it down' DAISY BUCHANAN
'Her thought-provoking story should be required reading for anyone in a relationship' DAILY MIRROR
'A memoir every woman needs to read' RED MAGAZINE
'This book isn't an ice-cold revenge opus; it's a diary of self-discovery, a celebration of friendship, resilience and finding one's self-worth...is it worth the hype? Absolutely: I had to stop myself from reading it one grateful gulp' LAURA PULLMAN, STYLE
About the Author
---
Rebecca has written for Vogue, Elle, the Guardian and the Telegraph on relationships, singledom and womanhood. In 2019 she spoke at the House of Commons on behalf of the organisers of the Women's March London about gaslighting and the media.
As an actress, Rebecca has most recently appeared in Ten Percent (Amazon Prime), The Crown (Netflix) and Friday Night Dinner (Channel 4).
All of the above has happened following her public break up in 2018.
Praise For…
---
Her thought-provokingstory should be required readingfor anyone in a relationship—Daily Mirror

Brilliant, universal writing on toxic relationships and heartbreak. A Heart Shaped Bullet for the modern age—Jenny Colgan

Her thought-provokingstory should be required readingfor anyone in a relationship—Daily Mirror

This book isn't an ice-cold revenge opus; it's a diary of self-discovery, a celebration of friendship, resilience and finding one's self-worth...is it worth the hype? Absolutely: I had to stop myself from reading it one grateful gulp—Style

The best [book] about relationships since Three Women [...]Set to be this year's summer smart female read for women of all ages—The Bookseller

Why Did You Stay? is anything but a simple question, and Humphries is nothing if not comprehensive in her answer - but she is also funny, tender and wise—i Paper

A memoir every woman should read ... a frank, funny and sometimes confronting deep dive into why so many women mistake controlling relationships with toxic men as what they think love should be—Red Magazine

Fierce. Game-changing. Urgently necessary. Brilliant, brilliant and did I say brilliant?

Pacy, vivid, compelling and very, VERY funny ... it will help so many

A fucking classic. Required reading for all women and men and I believe it's going to be the book of 2022

Fuck, this is good. Every page feels important

So funny and heart-breaking. So stunningly written. For any woman who has been asked 'why did you stay?', Rebecca Humphries' book is a hilarious and brilliant read

Very, very good

A magical, magical book—Glamour

So thoughtful and moving and funny and sad and great, I love it so, so much. I resented having to put it down

Her thought-provoking story should be required reading for anyone in a relationship—Daily Mirror

When I love a book, I want to talk to the person and this was fantastic...I know women are going to recognise themselves in here, or their best friend, or their mother, their sister

A funny, brave and honest book that will change lives. I have not stopped talking about it—The Times

An extraordinary memoir ... Unflinching and often very funny, it's a diary of self-discovery, an account of finding one's self-worth, a celebration of resilience and a hymn to the value of friendship—Observer

A really important book that I think loads of men should read so we can better understand the things we do, whether by accident or by design

Brilliant, universal writing on toxic relationships and heartbreak. A Heart Shaped Bullet for the modern age