Accidental Genius: How John Cassavetes Invented the American Independent Film (Hardcover)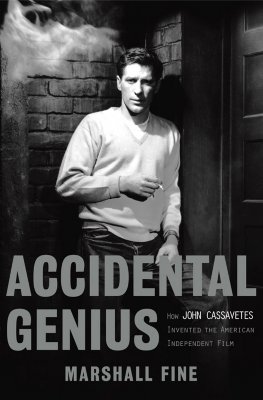 This item is not available for sale on this site.
Staff Reviews
---
John Cassavetes was a pioneer in American film-making. The way we view contemporary cinema has much to do with his approach to the medium. Risking his career, business connections and even his own home, Cassavetes persevered in order to tell the stories of human relationships in a way that was lacking significantly during Golden Age of Hollywood.—Josef
— From
Josef's Picks
Description
---
In the world of independent film making John Cassavetes stands apart. Among filmmakers and film buffs, Cassavetes is revered, almost as a god. A major star of live television and a serious actor, he stumbled into making his first film, Shadows, and created a template for working outside the Hollywood system that would produce some of the most piercing and human films of the last thirty years including A Woman Under the Influence and Husbands. He became the prototypical outsider fighting the system for much of his career. Film critic Marshall Fine had unprecendented access to Cassavetes' wife, Gena Rowlands, and other members of their inner circle, as well as industry insiders who worked with Cassavetes -- some speaking publicly for the first time. Together, they tell his daring, tumultuous, and compelling story.