Working Backwards: Insights, Stories, and Secrets from Inside Amazon (Hardcover)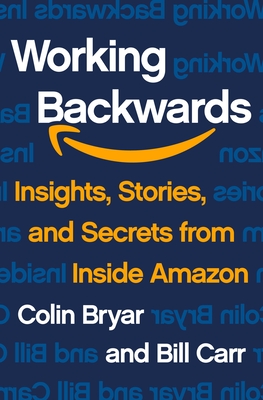 $29.99

Available from our Warehouse (Not in store currently)
Description
---
Working Backwards is an insider's breakdown of Amazon's approach to culture, leadership, and best practices from two long-time Amazon executives—with lessons and techniques you can apply to your own company, and career, right now.

In Working Backwards, two long-serving Amazon executives reveal the principles and practices that have driven the success of one of the most extraordinary companies the world has ever known. With twenty-seven years of Amazon experience between them—much of it during the period of unmatched innovation that created products and services including Kindle, Amazon Prime, Amazon Studios, and Amazon Web Services—Bryar and Carr offer unprecedented access to the Amazon way as it was developed and proven to be repeatable, scalable, and adaptable.

With keen analysis and practical steps for applying it at your own company—no matter the size—the authors illuminate how Amazon's fourteen leadership principles inform decision-making at all levels of the company. With a focus on customer obsession, long-term thinking, eagerness to invent, and operational excellence, Amazon's ground-level practices ensure these characteristics are translated into action and flow through all aspects of the business.

Working Backwards is both a practical guidebook and the story of how the company grew to become so successful. It is filled with the authors' in-the-room recollections of what "Being Amazonian" is like and how their time at the company affected their personal and professional lives. They demonstrate that success on Amazon's scale is not achieved by the genius of any single leader, but rather through commitment to and execution of a set of well-defined, rigorously-executed principles and practices—shared here for the very first time.

Whatever your talent, career or organization might be, find out how you can put Working Backwards to work for you.
About the Author
---
COLIN BRYAR joined Amazon in 1998 — four years after its founding — and spent the next 12 years as part of Amazon's senior leadership team as Amazon grew from a domestic (US-only) seller of books to a global, multi-dimensional powerhouse and innovator. For two of his years at Amazon, Colin was "Chief of Staff" to Jeff Bezos, AKA "Jeff's shadow", during which he spent each day attending meetings, traveling with, and discussing business and life with Jeff. After Amazon, he and his family relocated to Singapore for two years where Colin served as Chief Operating Officer of e-commerce company RedMart, which was subsequently sold to Alibaba. Colin is co-founder of Working Backwards LLC where he coaches executives at both large and early-stage companies on how to implement the management practices developed at Amazon.

BILL CARR is a co-founder of Working Backwards, LLC where he also coaches and advises executives at early stage and established companies around the globe. Bill served as the COO of OfferUp, the largest mobile marketplace for local buyers and sellers in the U.S. Prior to OfferUp he was an Executive In Residence with Maveron, LLC, an early-stage, consumer-only venture capital firm. Prior to Maveron, Bill spent more than 15 years at Amazon as a Vice President where he launched and managed the company's global digital music and video businesses, including Amazon Music, Prime Video, and Amazon Studios. Bill holds a Bachelor of Arts degree from Colby College and an MBA from Emory University.
Praise For…
---
"Rather than offering a dull catalog of the company's 14 leadership principles and three implementation mechanisms, Mr. Bryar and Mr. Carr provide concrete and accessible examples of how these are put into practice across a range of functions, from hiring and communications to organizational and product design." --New York Times

"[Working Backwards] should be read by anyone interested in the real thing—the principles, processes and practices of 21st century management and leadership." --Steve Denning, Forbes

"This book reads like a how-to guide, which perhaps is by design — Bryar and Carr both were long-time Amazonians and their vantage point is that of an enthusiast rather than a critic. To be sure, Amazon offers much to admire….It's a safe bet Amazon's core principles and practices will remain essentially intact, not because Bezos will be watching from the executive suite but because Bryar, Carr and legions of current managers at the company believe in the Amazon way." --Associated Press

"Bryar and Carr, both former Amazon executives, take a detailed informative firsthand look at the company's 'unique principles and processes.' … they deliver an information-packed guide to Amazon's success. Readers are sure to extract lessons applicable to organizations large and small." --Publishers Weekly

"Jeff Bezos once told me that unlike Google or Apple, 'Amazon doesn't have one big advantage, so we have to braid a rope out of many small advantages.' Amazon has demonstrated again and again that success doesn't result from one big stroke of genius but from a set of clear business practices consistently and boldly applied. Colin Bryar and Bill Carr dive deep into how Amazon has become the company to study if you want to succeed in 21st-century business." --Tim O'Reilly, owner of O'Reilly Media

"For those looking to change the world in ways (very) large and small via innovation and business, my strong recommendation is to dive deeply into Working Backwards. Bill and Colin have delivered a rarity of immense value, which is a powerful, high judgment dissection of the inputs to Amazon itself. I anticipate Working Backwards to quickly become required reading in board rooms and classrooms around the world." --Jason Kilar, Chief Executive Officer of WarnerMedia

"Colin Bryar and Bill Carr have operationalized the core management practices that lie behind Amazon's success. In particular, their insights into how any successful leader can focus on narrative and metrics to take a short-cut to the truth are essential for any leader in any industry. You'll want to have your highlighter ready and keep this book close at hand for quick reference." --Kim Scott, author of Radical Candor

"Colin and Bill give us an insider's view of Amazon during what was an extraordinary period of growth for the organization. Having partnered with Amazon Web Services (AWS) during my time at Red Hat and now at IBM, I can attest to their unrelenting commitment to customers. Leaders who want to foster customer obsession and drive operational excellence within their organizations should read this book." --Jim Whitehurst, President, IBM

"Working Backwards serves as a blueprint enabling leaders to implement guiding principles, operating rhythms and durable mechanisms that allow teams to scale effectively, even as your business expands at an accelerated clip. A must read for every entrepreneur or business leader focused on driving growth."
--Mariana Garavaglia, Chief People & Business Operations Officer, Peloton

"Colin and Bill have captured the essence of what it means at Amazon to start with the customer and work backwards. They both held important leadership roles at critical moments in the company's history that they've translated into interesting stories and lessons for readers. I even plan to use it as a reference myself." --Jeff Wilke, CEO, Worldwide Consumer, Amazon

"Colin and Bill very precisely captured the unique corporate culture of Amazon and described many of the essential parts of Amazon's approach to innovation. They offer a unique, insiders' view of the company with many valuable lessons for large companies that want to reinvent their business models as well as for startups that want to scale rapidly. This is the definitive innovation playbook." --Serguei Netessine, Vice Dean and Dhirubhai Ambani Professor of Innovation and Entrepreneurship at The Wharton School