Freud: The Making of an Illusion (Paperback)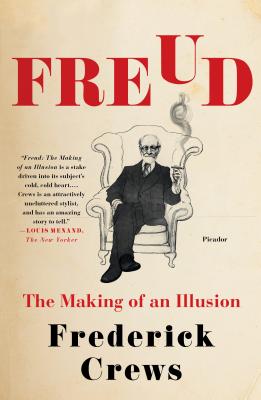 $22.00
Available from our Warehouse (Not in store currently)
Description
---
From the master of Freud debunkers, the book that definitively puts an end to the myth of psychoanalysis and its creator
Since the 1970s, Sigmund Freud's scientific reputation has been in an accelerating tailspin—but nonetheless the idea persists that some of his contributions were visionary discoveries of lasting value. Now, drawing on rarely consulted archives, Frederick Crews has assembled a great volume of evidence that reveals a surprising new Freud: a man who blundered tragicomically in his dealings with patients, who in fact never cured anyone, who promoted cocaine as a miracle drug capable of curing a wide range of diseases, and who advanced his career through falsifying case histories and betraying the mentors who had helped him to rise. The legend has persisted, Crews shows, thanks to Freud's fictive self-invention as a master detective of the psyche, and later through a campaign of censorship and falsification conducted by his followers.
A monumental biographical study and a slashing critique, Freud: The Making of an Illusion will stand as the last word on one of the most significant and contested figures of the twentieth century.
About the Author
---
Frederick Crews is the author of many books, including the bestselling satire The Pooh Perplex, Postmodern Pooh, and Follies of the Wise, which was a finalist for a National Book Critics Circle award. A professor emeritus of English at the University of California, Berkeley and a longtime contributor to The New York Review of Books, he is widely regarded as the leading critic of Freud and psychoanalysis.
Praise For…
---
"Freud: The Making of an Illusion [is] a . . . stake driven into its subject's cold, cold heart. . . . Crews is an attractively uncluttered stylist, and he has an amazing story to tell."—Louis Menand, The New Yorker
"A powerful and thorough takedown of Sigmund Freud."—Vulture
"Crews [is] going in for the kill. A damning portrait."—Esquire
"Diligently documented . . . neither sensationalized nor ranting . . . a scorching summation."—The Chronicle of Higher Education
"An elegant and relentless exposé . . . Impressively well-researched, powerfully written, and definitively damning. Crews wields his razor-sharp scalpel on Freud's slavish followers, in particular, who did not want to see or who willfully redacted the sloppiness of Freud's research methods in order to 'idealize him.' "—Kirkus Reviews (Starred Review)
"Crews relentlessly shreds the deceptions that Freudians even now try to maintain. . . . This thorough dismantling of one of modernity's founding figures is sure to be met with controversy."—Booklist (Starred Review)
"A stunning indictment . . . this fascinating biographical study paints a portrait of Freud as a man who cared more about himself than his patients and more about success than science."—Publishers Weekly
"For those who worship Freud, and even those millions who have simply admired his ideas, Crews's rigorous and captivating detective work will be a bracing challenge."—Elizabeth Loftus, co-author of The Myth of Repressed Memory
"A riveting, masterful biography . . . Delving deeply into hitherto suppressed archival material, Crews paints an unforgettable portrait of an utterly incompetent psychotherapist whose ruthless pursuit of wealth and fame led him to disregard the welfare of his patients as well as the scruples of scientific method."—Richard J. McNally, author of What Is Mental Illness?
"Frederick Crews tells the riveting story of how a troubled, insecure, but supremely ambitious doctor stumbled from one therapeutic fantasy to another before hitting on the one that made him famous. Crews is a master narrator, and he has put his finger on the key factor in Freud's career: the remarkable series of intense, morally fraught, and truly bizarre relationships (collegial, therapeutic, and sexual)—that kept Freud going as his theories proved ever resistant to confirmation."—John Farrell, author of Freud's Paranoid Quest
"One has to admire Crews's story: the way he tells it, and the marvelous blending of the different sources."—Malcolm Macmillan, author of Freud Evaluated: The Completed Arc
"The Freudian myth--one of the thought-deforming tyrannies of the 20th century--is hereby at an end. This book is as exhilarating as the fall of the Berlin wall."—Stewart Justman, author of The Psychological Mystique
"In this painstaking study, Frederick Crews reveals just what a huge intellectual Ponzi scheme the elaborate Freudian business represented."—Paul McHugh, author of The Mind has Mountains: Reflections on Society and Psychiatry
"Making use of newly available correspondence, and new readings of previously available material, Crews reveals a pattern of misunderstanding, misrepresentation, and mendacity that characterized the Freudian enterprise right from the beginning."—John F. Kihlstrom, editor of Functional Disorders of Memory
"This riveting and masterful reassessment puts the final nail in the coffin of Sigmund Freud's misguided career by meticulously documenting his willful descent into pseudoscience. Altogether a fascinating read!"—Frank J. Sulloway, author of Freud, Biologist of the Mind: Beyond the Psychoanalytic Legend