The Plover: A Novel (Paperback)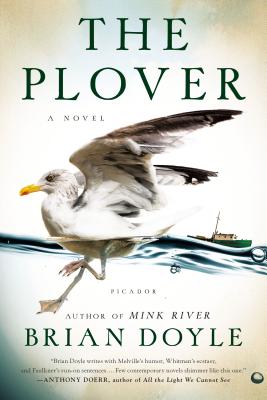 Staff Reviews
---
Brian Doyle is without question my favorite new author, and this is the best of his books. Lyrical, exuberant, transcendant writing that makes the plot almost unnecessary, though the story itself, of four explorers in a small craft on the Pacific Ocean, is wonderful. I can't say enough good about this book. —Ty
— From
Ty's Picks
April 2014 Indie Next List
---
"A solitary sea journey for an epically disillusioned man named Declan O'Donnell evolves into a rousing adventure tale in Doyle's The Plover. O'Donnell's small boat becomes the refuge of a number of unexpected -- and largely unwelcome -- passengers, all of them anxious to leave their former lives bobbing in the ship's wake. Lyrical and literate, this novel is as much a love story dedicated to the sea as it is an exciting and ultimately moving human drama."
— Alden Graves, Northshire Bookstore, Manchester Center, VT
Description
---
Declan O Donnell has sailed deep into the vast, wild ocean, having had just finally enough of other people and their problems. He will go it alone, he will be his own country, he will be beholden to and beloved of no one.

But the galaxy soon presents him with a string of odd, entertaining, and dangerous passengers, who become companions of every sort and stripe. The Plover is the story of their adventures and misadventures in the immense blue country one of their company calls Pacifica. Hounded by a mysterious enemy, reluctantly acquiring one new resident after another, Declan O Donnell's lonely boat is eventually crammed with humor, argument, tension, and a resident herring gull.

Brian Doyle's The Plover is a sea novel, a maritime adventure, the story of a cold man melting, a compendium of small miracles, an elegy to Edmund Burke, a watery quest, a battle at sea---and a rapturous, heartfelt celebration of life's surprising paths, planned and unplanned.
About the Author
---
BRIAN DOYLE (1956-2017) was the longtime editor of Portland Magazine at the University of Portland, in Oregon. He was the author of six collections of essays, two nonfiction books, two collections of "proems," the short story collection Bin Laden's Bald Spot, the novella Cat's Foot, and the novels Mink River, The Plover, and Martin Marten. He is also the editor of several anthologies, including Ho`olaule`a, a collection of writing about the Pacific islands.

Doyle's books have seven times been finalists for the Oregon Book Award, and his essays have appeared in The Atlantic Monthly, Harper's, Orion, The American Scholar, The Sun, The Georgia Review, and in newspapers and magazines around the world, including The New York Times, The Times of London, and The Age (in Australia). His essays have also been reprinted in the annual Best American Essays, Best American Science & Nature Writing, and Best American Spiritual Writing anthologies.

Among various honors for his work is a Catholic Book Award, three Pushcart Prizes, the John Burroughs Award for Nature Essays, Foreword Reviews' Novel of the Year award in 2011, and the Award in Literature from the American Academy of Arts and Letters in 2008 (previous recipients include Saul Bellow, Kurt Vonnegut, Flannery O'Connor, and Mary Oliver).
Praise For…
---
"Brian Doyle writes with Melville's humor, Whitman's ecstasy, and Faulkner's run-on sentences . . . Few contemporary novels shimmer like this one." —Anthony Doerr, author of All the Light We Cannot See

"Conrad, Stevenson, and Jack London come to mind, but so does the magical realism of Gabriel García Márquez . . . The Plover sails delightfully on an imaginative sea of insight, compassion, and a kind of mystical grace." —The Seattle Times

"It is Doyle's careful shaping of his characters' internal landscapes that makes The Plover so unique . . . A novel of wondrous ideas worth mulling over." —The Oregonian

"A rare and unusual book and a brilliant, mystical exploration of the human spirit." —Kirkus Reviews (starred review)

"Brian Doyle has spun a great sea story, filled with apparitions, poetry, thrills, and wisdom. The sweet, buoyant joy under every sentence carried me along and had me cheering. I enjoyed this book enormously." —Ian Frazier, author of Travels in Siberia and The Cursing Mommy's Book of Days

"Board this boat! Here's Doyle at his probing, astonishing, wordslinging best." —Robin Cody, author of Voyage of a Summer Sun

"The Plover alternately reminded me of The Unusual Life of Tristan Smith by Peter Carey, with its crippled main character and fictional country; The Life of Pi by Yann Martel, for strange adventures at sea; Florence and Giles by John Harding, for made-up words; and the works of Gabriel Garcia Marquez for the elements of magical realism. " —Booksquawk

"Doyle has written a novel in the adventurous style of Jack London and Robert Louis Stevenson but with a gentle mocking of their valorization of the individual as absolute. Readers will enjoy this bracing and euphoric ode to the vastness of the ocean and the unexpectedness of life." —Library Journal (starred)

"A novel about the sea. It is a rhythmic read. The cadence of the sea and of on-board conversation creates a mosaic of movement. The ocean serves as both protagonist and antagonist. It holds everyone together as it strives to pull everyone apart. It slides through the novel and lulls us into its great heart." —The Portland Book Review

"The Plover is a fun ride with meaning and heart, lots of it, as well as jokes, scares, storms at sea, surprises, magic, absurdity--and humanity, exuberant joyful humanity." —Shelf Awareness (starred review)

"I don't know how many all-bird novels are out there, but Doyle could rule the canon. The aviary ensemble of The Plover ('those who have heard it say it has a mournful yet eager sound'), separated from the whole of the narrative, deftly and gracefully drives a stand-alone tale. ... But this is a people story -- it's full of them. They are colorfully introduced, down to the detailed fabric of their being and then often released from the tale, only to be intricately woven back in." —The Register-Guard