Martin Marten: A Novel (Hardcover)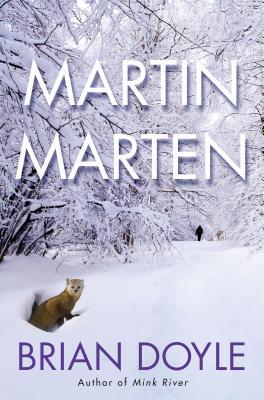 Description
---
WINNER OF THE LESLIE BRADSHAW AWARD FOR YOUNG ADULT LITERATURE
WINNER OF THE BANFF MOUNTAIN BOOK AWARD FOR FICTION
Dave is fourteen years old, eager and headlong. He is about to start high school, which is scary and alluring. Martin is a pine marten, a small, muscled hunter of the deep woods. He is about to leave home for the first time, which is scary and thrilling. Both of these wild animals are setting off on adventures on their native Mount Hood in Oregon, and their lives, paths, and trails will cross, weave, and blend. Why not come with them as they set forth into the forest and crags of the mountain and into the bruising wilderness of love, life, family, friends, enemies, wonder, mystery, and good things to eat?
Martin Marten is a braided coming-of-age tale like no other, told in Brian Doyle's joyous, rollicking style. Two energetic, sinewy, muddled, brilliant, creative animals, one human and one mustelid...come sprint with them through the deep, wet, green glory of Oregon's soaring mountain wilderness.
About the Author
---
BRIAN DOYLE (1956-2017) was the longtime editor of Portland Magazine at the University of Portland, in Oregon. He was the author of six collections of essays, two nonfiction books, two collections of "proems," the short story collection Bin Laden's Bald Spot, the novella Cat's Foot, and the novels Mink River, The Plover, and Martin Marten. He is also the editor of several anthologies, including Ho`olaule`a, a collection of writing about the Pacific islands.
Doyle's books have seven times been finalists for the Oregon Book Award, and his essays have appeared in The Atlantic Monthly, Harper's, Orion, The American Scholar, The Sun, The Georgia Review, and in newspapers and magazines around the world, including The New York Times, The Times of London, and The Age (in Australia). His essays have also been reprinted in the annual Best American Essays, Best American Science & Nature Writing, and Best American Spiritual Writing anthologies.
Among various honors for his work is a Catholic Book Award, three Pushcart Prizes, the John Burroughs Award for Nature Essays, Foreword Reviews' Novel of the Year award in 2011, and the Award in Literature from the American Academy of Arts and Letters in 2008 (previous recipients include Saul Bellow, Kurt Vonnegut, Flannery O'Connor, and Mary Oliver).
Praise For…
---
"I read aloud with the family ... Martin Marten by Brian Doyle everyone sprawled on couches under kerosene light. The experience was extraordinary and moving, thanks mostly to ... Doyle. I urge you to give that a try yourself, if and when you can." —The New York Times
"Martin Marten is a joyous celebration of the complexities of life told by a master storyteller. You will want to share it with your family and friends." —Neil Abramson, author of Unsaid
"Martin Marten is a daring and delightful creation. As well as any novelist working today, Brian Doyle blends animal and human kingdoms into a seamless hopeful narrative overflowing with the wonderment of life. So artfully does he weave the feelings and impulses of his imagined people and wildlife that Doyle himself must be half-man, half-critter. Martin Marten should be required reading for all humans." —Jim Lynch, author of the novels Truth Like the Sun, Border Songs, and The Highest Tide
"Brian Doyle's gorgeous new novel is a hypnotic, luxurious journey through our natural world--a mind-bending celebration of how sweet each day can be. Martin Marten is composed with musical prose and sparkling, quirky characters who remind us that humanity is still capable of great good, and bliss might well lie just beyond our own back doors. A modern day Siddhartha set in the lush Pacific Northwest, Martin Marten awakens readers to the interconnected worlds that define the landscape of one glorious mountain, and the common boundaries of its infinite souls" —Carol Cassella, author of Gemini
"Behold a tale both wonderful and wise about the mysteries of adolescence, the interconnectedness of the natural world, and the nature of existence itself. Insightful, heartwarming, and beautifully written, Brian Doyle's Martin Marten will have you cheering for characters across the species divide." —Brian Payton, author of The Wind Is Not a River
"Doyle is a born storyteller. ... Life in the Northwest woods may be fanciful in Martin Marten, but the characters emerge true as rain." —Seattle Times
"A rich, wise tale of two creatures from different species whose lives run parallel to each other." —Shelf Awareness
"Flows along absorbingly, avoiding sentiment while imparting a quiet acceptance of the rhythms of the natural and human worlds. Highly recommended; even city slickers
can love." —Library Journal (starred)
"Utterly winning." —The Wall Street Journal
"Brian Doyle seeks that magical connection with the reader and, in Martin Marten, is wonderfully successful in his effort." —Portland Book Review
"[Brian Doyle's] a guy with a penchant for piquant detail, and possibly a cosmic agenda. When you finish reading a novel by Doyle, you're bound to feel more attuned to the universe." —Kitsap Sun
"Reading it feels a bit like wandering through the woods all day just for the pleasure of it, with no particular plans. Indeed, at times his prose feels like the very embodiment of a marten moving through the forest--by turns playful, reverent, breathless, and fierce." —Orion