The Official Beginner's Guide for ACT 2020-2021 (Paperback)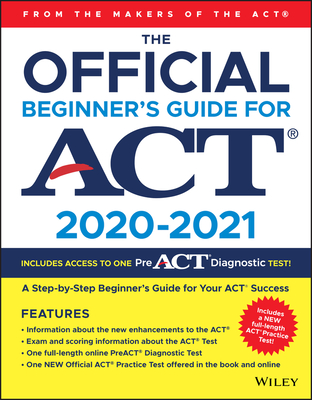 Description
---
ALERT: The Official Beginner's Guide for ACT 2020-2021 is now out of print, and the digital links included in the book will retire on July 31, 2021. This content will no longer be available to customers at that time. If you are looking for official ACT exam prep materials, please consider The Official ACT Prep Guide 2021-2022 (ISBN: 9781119787341) instead.
This book is the ONLY Official Beginner's Guide in the market from the makers of the ACT test and it provides students with all the information they need to know about the enhancements made to The ACT as well as ways to start preparing for the ACT.
Learn firsthand from ACT about section retesting, the option for faster results through online testing and an ACT provided superscore. This guide also will allow you to start your prep with an online version of the PreACT Diagnostic test and an official ACT full practice test included in the book and online.
The Official Beginner's Guide Includes:
Information about the new enhancements to the ACT
Exam and scoring information about the ACT test
One full length online PreACT Diagnostic test
An Official ACT practice test offered in the book and online
The Official Beginner's Guide for the ACT(R) is the best place to start, learn about the ACT, and begin your prep towards success
PreACT Diagnostic is an online version of the PreACT and is designed to provide a practice experience for students who are planning to take the ACT. PreACT Diagnostic provides Composite, Subject, and STEM scores along with predicted ACT score ranges and helps students to identify areas of strength and weakness for further preparation for the ACT.
The ACT measures students' achievement in core academic areas important for college and career success: English, math, reading, science, and (optionally) writing.
About the Author
---
ACT (Iowa City, IA) is a not-for-profit organization providing assessment, research, information, and program management services to support education and workforce development. Known most widely as the makers of the ACT exam--the college readiness and placement assessment taken by some 1.8 million high school students each year--ACT produces a number of assessments and services reaching more than 10 million people along the kindergarten through career continuum. ACT's rigorous research informs policy decisions and helps develop programs that boost lifelong learning potential in schools and workplaces around the world. To learn more, visit www.act.org.