Grant Writing for Dummies (Paperback)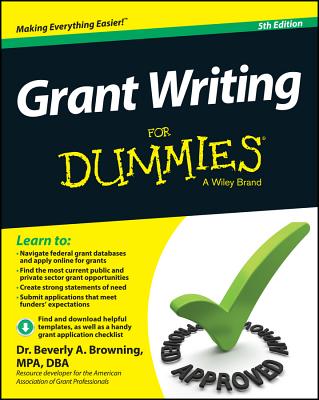 Description
---
Learn to:
Navigate federal grant databases and apply online for grants
Find the most current public and private sector grant opportunities
Create strong statements of need
Submit applications that meet funders' expectations
Your comprehensive guide to finding and winning grant monies
Grant writing can be quite daunting, but this complete guide provides you with everything you need to get started with your application right away Use this resource, including new and updated material, to move through the entire grant-writing process and apply for some of the billions of dollars available from public and private sector sources.
Grant writing 101 -- get an easy-to-understand introduction to the ins and outs of grants, including who funds them and how to receive them
Know what funders want -- discover the many grant-making organizations throughout the world and how to tailor your message to what your prospects expect
Tug on reviewers' heartstrings -- find out how to tell your story so peer reviewers award your application the maximum number of points
The write stuff -- explore writing techniques to create powerful, successful applications and proposals that convey your need for grant funding
Go online and find templates for request letters, executive summaries, logic models, budget summary tables, and more
Open the book and find:
How to connect with grant-making agencies
What goes into a grant submission
How to build a great funding plan
An overview of the peer review process
A helpful checklist to make sure all the pieces are in place
How to navigate federal grant websites
Compelling words to use in applications
Advice on requesting matching funds and other items
About the Author
---
Dr. Beverly A. Browning, MPA, DBA, is a grant writing course developer who has been consulting in the areas of grant writing, contract bid responses, and organizational development for 23 years. She has assisted clients throughout the United States in receiving awards of more than $100 million.