Love-Based Copywriting Method: The Philosophy Behind Writing Copy that Attracts, Inspires and Invites (Paperback)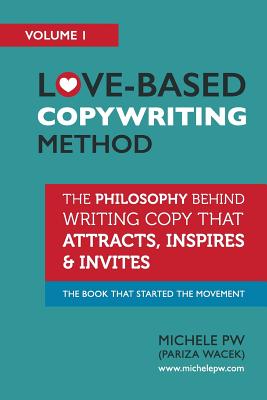 $12.99

Available from our Warehouse (Not in store currently)
(This book cannot be returned)
Description
---
The book that started a movement
Part of the highly acclaimed Love-Based Business series that has been featured on numerous media outlets including Forbes, CBS and NPR. Do you hate the way sales and marketing copy makes you feel? Sales-y? Inauthentic? Hype-y? Just plain icky? You're not alone ... and there's a reason you feel that way. It's because traditional sales and marketing copy (also known as direct response copy) sells by tapping into fear. But, you don't have to use fear - you can sell and market your business using love instead. And when you do that, you stop manipulating and twisting arms to get buyers, and instead start attracting, inspiring and inviting your ideal clients into your business. Ahhh -- doesn't that sound wonderful? In this book, love-based copywriting and marketing expert Michele PW (Pariza Wacek) teaches you the philosophy and the foundational principles behind selling with love versus fear - the same proven principles she's used to help her clients sell nearly $50 Million worth of products and services. Plus, she includes dozens of exercises so you too can easily implement love-based copy in your own business. Whether you're a seasoned entrepreneur or business owner or just starting out, you'll discover valuable tips and strategies around selling and marketing with love. You may also want to check out "Love-Based Copywriting System," the second book in the Love-Based Business series, which walks you through step-by-step exactly how to write copy that sells with love.
About the Author
---
Michele PW (Pariza Wacek) is the considered one of the hottest marketing and copywriting strategists today. She is the founder and owner of a copywriting and marketing company that specializes in helping entrepreneurs and business owners all over the world grow successful and profitable businesses using love-based copy and marketing principles. She grew up in Madison, WI and currently resides in Arizona with her husband and dogs.