The Revised Vault of Walt (Paperback)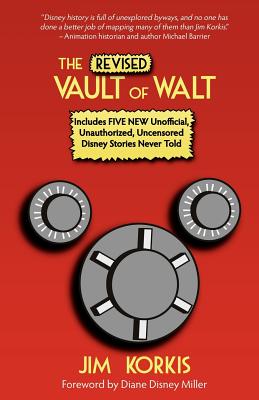 $14.95

Available from our Warehouse (Not in store currently)
(This book cannot be returned)
Description
---
In 2010, Jim Korkis wrote his best-selling book The Vault of Walt. Now Jim has returned to the Vault, and in this revised edition of his classic book, you'll find your favorite tales plus five brand-new stories, including:
The perilous four-month stint of famed Warner Bros. animator Chuck Jones at the Disney Studios
Why two women you've never heard of were among Walt's most important influences
Walt's admiration for and brief collaboration with legendary artist Salvador Dali
Walt and Lillian Disney's raucous 30th wedding anniversary celebration in Frontierland
How Walt's early infatuation with polo led to an injury that plagued him for the rest of his life
The story of Cinderella's Golden Carrousel and the Disney craftswoman who tended it for decades
Walt's fondness for chili and cold weenies, with authentic recipes to create his favorite dishes
And over twenty more
With a foreword by Walt's daughter Diane Disney Miller, The Revised Vault of Walt is your chance to roam the nooks and crannies of Disney culture in the capable hands of Disney historian, master storyteller, and former Cast Member Jim Korkis. As Diane Disney Miller herself writes, Jim's stories are "...authentic, so true to my dad's spirit, so unprejudiced and non-judgmental, that I ... could see the twinkle in dad's eye, hear his laugh".
The Revised Vault of Walt consists of four parts, each with seven memorable tales about Walt, Disney films, Disney theme parks, and the many other worlds of Disney. In addition, there's a bonus section about Disney's controversial film Song of the South to herald Jim's new book, Who's Afraid of the Song of the South? And Other Forbidden Disney Stories, also from Theme Park Press and now available on Amazon.
Note to readers of the old edition: The Revised Vault of Walt omits several of Jim's stories and replaces them with new tales. The book has been professionally copy edited and features a brand-new layout - not to mention a much lower price. But please do remember that most of the content here was also present in the old edition.
Jim Korkis is the best-selling author of Vault of Walt, and has been researching and writing about Disney for over three decades. The Disney Company itself uses his expertise for special projects. Korkis resides in Orlando, Florida.