Straddling Worlds: The Jewish-American Journey of Professor Richard W. Leopold (Paperback)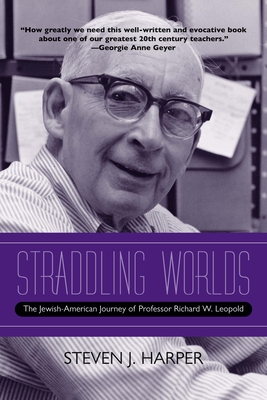 This item is not available for sale on this site.
Description
---
Author Steven J. Harper pays tribute to a well-respected teacher with this biography of a distinguished William Smith Mason Professor of History at Northwestern University, Richard W. Leopold. Harper had maintained contact with his former professor, as had hundreds of other alumni, meeting with him in the apartment to which his age and health confined him. When Leopold invited him to review his biographical materials to prepare a New York Times obituary, Harper began to catch glimpses of a deeper history in Leopold's life: that of Jews in America after the turn of the century.
Across two years of Sundays, Leopold's life came together and Harper began to notice parallels between the life of his professor and the life of his recently deceased father-in-law. Both grew up in less orthodox households but were still identified as Jewish by others; both attended Ivy League colleges, fighting (and beating) anti-Semitism there; and both served their country with distinction in World War II. The two men persevered through a twentieth century Jewish-American experience that they and many others shared, but rarely discussed. Steven Harper has caught them both on the page just in time to document their lives, their culture, and the nation that grew and changed alongside them.
About the Author
---
Steven J. Harper is a partner in the law firm of Kirkland and Ellis. He completed his undergraduate work at Northwestern University and his graduate work at Harvard. He is the author of Crossing Hoffa: A Teamster's Story.
Praise For…
---
"There are few great teachers in any generation. One such during the second half of the twentieth century was Richard W. Leopold, a professor of the history of American foreign policy Harvard and Northwestern. Steven J. Harper has caught the spirit and tone of Dick Leopold's life and career in this graceful, admiring biography which aptly describes the stunning qualities of instruction, academic citizenship, and professional scholarship that Leopold exemplified in his distinguished career."  —John Morton Blum, Sterling Professor of History (emeritus) at Yale University and author of The Republican Roosevelt, V was for Victory,and other books
"We Americans today live too much in historical bubbles, protected from the cleansing knowledge of time and man's history. And so, how greatly we need this well-written and evocative book about one of our greatest twentieth century teachers! Here, in the amazing and inspiring life of Richard Leopold, a man impassioned by excellence, we can see and feel one of the great and searching historic minds of our time--and grapple with our past anew. Personally, I am immensely comforted and inspired by this rare narrative of a man who never bent the truth."  —Georgie Anne Geyer, syndicated columnist, Universal Press Syndicate, and author of Guerrilla Prince, and other books
"What a privilege to have had Leopold for a teacher and a friend! I thoroughly enjoyed this book and learning of his entire life. I only wish I'd known more of it when I visited him over the years." —Phyllis E. Oakley, former Assistant Secretary of State and adjunct professor, Johns Hopkins University, School of Advanced International Studies (SAIS)