Fist Stick Knife Gun: A Personal History of Violence in America (Paperback)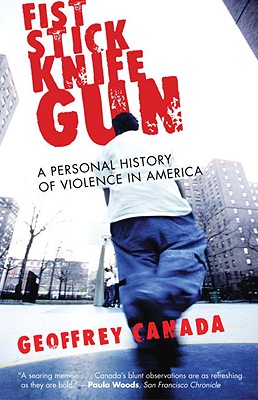 This item is not available for sale on this site.
Description
---
Long before U.S. News and World Report named him one of America's Best Leaders and Oprah Winfrey called him "an angel from God," Geoffrey Canada was a small, vulnerable, scared boy growing up in the South Bronx. Canada's world was one where "sidewalk" boys learned the codes of the block and were ranked through the rituals of fist, stick, and knife. Then the streets changed, and the stakes got even higher. In this candid and riveting memoir, Canada relives a childhood in which violence stalked every street corner. "If you wonder how a fourteen-year-old can shoot another child his own age in the head and then go home to dinner," Canada writes, "you need to know you don't get there in a day, or week, or month. It takes years of preparation to be willing to commit murder, to be willing to kill or die for a corner, a color, or a leather jacket."
Praise For…
---
"The Harlem Children's Zone (is) an all-encompassing, all-hands-on-deck anti-poverty effort that is literally saving a generation of children in a neighborhood where they were never supposed to have a chance. . . . The first part of my plan to combat urban poverty will be to replicate the Harlem Children's Zone in twenty cities across the country." —President-elect Barack Obama, July 18, 2007

"A shattering depiction of the logic of our violent streets, from 'one of this country's genuine heroes.'" —Charles Johnson

"The vignettes band together with a kind of clarifying momentum, so that the result is something more. . . . A beacon." —New York Times Book Review

"A more powerful depiction of the tragic life of urban children and a more compelling plea to end 'America's war against itself' cannot be imagined." —Publishers Weekly

"Geoff Canada has been cultivating virtue, and hope, in children for the past 10 years." —Newsweek

"A slim, revealing volume that should be required reading for anyone who was ever a child, for anyone who has ever negotiated the complicated hierarchy of 'rep' and revenge on city streets." —Boston Globe

"Part memoir, part social treatise, a wholly sobering view of inner-city violence and the codes surrounding it." —Kirkus Reviews

"A searing memoir . . . Canada's blunt observations are as refreshing as they are bold."—Paula Woods, San Francisco Chronicle

"Should be required reading . . . Here is the role model, the griot, the nurturer, the brother who never left the 'hood because he keeps looking into the faces of the children and seeing himself there."—Patricia Smith, Boston Globe

"Geoffrey Canada has never lost touch with the child within himself or with the fears of the children around him struggling to reach adulthood in the violent streets of America."—Marian Wright Edelman, author of The Measure of Our Success

"An urban coming-of-age story, it contrasts the mean streets of the author's South Bronx youth in the 1960s to the drug-and-gun culture afflicting today's urban youth."—Jim Bencivenga, Christian Science Monitor