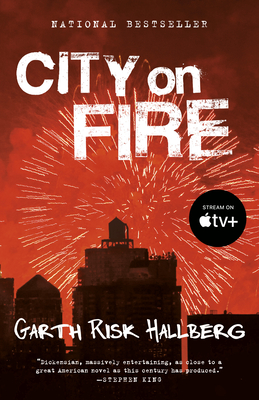 $20.00

Available from our Warehouse (Not in store currently)
Staff Reviews
---
This novel, Hallberg's first, is stellar. I marveled in the beauty of his sentences, fell in love with his characters, and didn't want it to end. Well worth the commitment! —Ty
— From
Ty's Picks
This novel, Hallberg's first, is stellar. I marveled in the beauty of his sentences, fell in love with his characters, and didn't want it to end. Well worth the commitment.
— From
Michaela's Picks
October 2015 Indie Next List
---
"Big, juicy, and full-throated, City on Fire absorbs readers into an expertly crafted 1970s New York City and introduces them to character after lushly drawn character: the charismatic young woman with a hidden life, her asthmatic punk groupie friend, the wizened reporter, the obscenely rich and rebellious, the not-so-rebellious, and those who love them. Their lives create a rich tapestry, beginning with a murder on the brink of the New Year in 1977 and culminating later that year during the infamous blackout. With unequivocal skill, Hallberg makes readers feel like they are holding the whole city in their hands. Breathe deep and enjoy the experience!"
— Melinda Powers (E), Bookshop Santa Cruz, Santa Cruz, CA
Description
---
NATIONAL BESTSELLER • A mystery that reverberates through families, friendships, and the corridors of power in New York and "captures the city's dangerous, magnetic allure" (The New York Times). • Streaming now on Apple TV+

"As close to a great American novel as this century has produced." —Stephen King

New York City, 1976. Meet Regan and William Hamilton-Sweeney, estranged heirs to one of the city's great fortunes; Keith and Mercer, the men who, for better or worse, love them; Charlie and Samantha, two suburban teenagers seduced by downtown's punk scene; an obsessive magazine reporter and his idealistic neighbor—and the detective trying to figure out what any of them have to do with a shooting in Central Park on New Year's Eve. 

When the blackout of July 13, 1977, plunges this world into darkness, each of these lives will be changed forever. City on Fire is an unforgettable novel about love and betrayal and forgiveness, about art and truth and rock 'n' roll: about what people need from each other in order to live—and about what makes the living worth doing in the first place.
About the Author
---
Garth Risk Hallberg's first novel, City on Fire, was a New York Times and international bestseller, has been translated into 17 languages, and was named one of the best books of 2015 by The Washington Post, Los Angeles Times, San Francisco Chronicle, The Wall Street Journal, NPR, and Vogue. He is also the author of a novella, A Field Guide to the North American Family. His short stories have appeared in Prairie Schooner, Glimmer Train, and Best New American Voices 2008, and he has written critical essays for The New York Times Book Review, The Guardian, The Millions, and Slate. A two-time finalist for the National Book Critics Circle's award for Excellence in Reviewing, he lives in New York with his wife and children.
Praise For…
---
A New York Times Notable Book • One of the Best Books of the Year: The Washington Post, Los Angeles Times, NPR, Vogue, San Francisco Chronicle, The Wall Street Journal

"A symphonic epic. . . . A big, stunning first novel and an amazing virtual reality machine. . . . Captures the city's dangerous, magnetic allure. . . . A novel of head-snapping ambition and heart-stopping power—a novel that attests to its young author's boundless and unflagging talents." —Michiko Kakutani, The New York Times

"Dickensian, massively entertaining, as close to a great American novel as this century has produced." —Stephen King

"Dazzling. . . . Endlessly fascinating. . . . A novel whose Whitmanesque arms embrace an entire city of lovers and strivers, saints and killers. . . . City on Fire is an extraordinary performance." —Ron Charles, The Washington Post

"A book that is truly that great, rare thing: a wholly inhabitable universe, reflecting back our lives while also offering an exhilarating escape from them." —Rolling Stone

"Gorgeous. . . . It really is amazing. . . . Deeply felt. . . . No matter where you come from, who you love or what you do, you can slip into the skin of (almost) any one of his characters and feel the world like a real, round, and living thing closing its fist around you." —NPR

"[A] soaring debut. . . . Over the course of Hallberg's magisterial epic, distinctions of class, race, geography, and generation give way to an impression of the human condition that is both ambitious and sublime." —Vanity Fair

"A singular achievement: a novel as rich and maddening and unforgettable as the city it illuminates." —Entertainment Weekly

"A big, generous novel . . . reminds us that, behind the corporate facades and cronuts, we remain deeply interconnected. . . . [An] exuberant, Zeitgeisty New York novel, like The Bonfire of the Vanities, The Emperor's Children, or The Goldfinch." —Vogue

"Locating the best of times within the worst of times is no mean trick, especially in a historical novel where the history is recent enough that many readers remember firsthand just how bad those times were. That's the delicate and ultimately moving balancing act that Garth Risk Hallberg pulls off in City on Fire. . . . A tour de force." —Frank Rich, The New York Times Book Review (cover)

"Brilliant. . . . Hallberg writes with style and sophistication about everything from urban decay and punk rock to domestic terrorism and the dissolution of the nuclear family." —San Francisco Chronicle

"An uncommon pleasure. . . . An epic and absorbing novel. . . . City on Fire manages an accumulation of detail that nearly takes on as many layers as life itself." —USA Today

"Profoundly illuminating. . . . Timeless. . . . Hallberg ties these characters' fates together with an artful intricacy that is truly remarkable." —Seattle Times

"Immersive. . . . As you give yourself over to the spell of City on Fire, you'll appreciate that any shorter and less intricately constructed work wouldn't have done justice to the ambition and power of Hallberg's transfixing vision." —Minneapolis Star Tribune

"Spectacular. . . . New York City in the 1970s comes pulsingly alive." —People

"Skillfully drawn and beautifully shaded. . . . City on Fire is a novel of connection, forgiveness, and empathy." —A. O. Scott, GQ
 
"To a person who did live in New York in the nineteen-seventies—to wit, this person—Hallberg's powers of evocation are uncanny. . . . What Hallberg is after is an atmosphere, and he gets it." —Louis Menand, The New Yorker

"Extraordinarily well-written . . . pitch-perfect . . . [The book] is undeniably mimetic of Golden Age TV. But City on Fire can equally be seen as a challenge to contemporary television: Everything you can do I can do better." —The Atlantic

"Hallberg would resist the mantle of author of the great New York City novel . . . but he comes as close to it as any I've read in my lifetime. . . . He's so masterful at describing the city, at perfectly dreaming it for us, that it does exactly what great literature can do: stand up as accurate even as it knocks us over with its beauty." —Christopher Bollen, Interview magazine

"A great American novel. . . . Resolute and powerful. . . . A commingling of F. Scott Fitzgerald, J. D. Salinger, and Tom Wolfe." —Paste

"Stunning. . . . Has the scope of a classic Russian novel. . . . Like Jonathan Franzen and Michael Chabon, Hallberg is brilliant at communicating the special energy of Manhattan. Unlike them, however, he paints on a much broader canvas." —Pittsburgh Post-Gazette

"Good news for the American novel: City on Fire lives up to the hype. It's a sprawling, deeply lived-in, thoroughly accessible fresco in the tradition of Dickens." —Dallas Morning News

"The kind of debut novel that only comes around every twenty years. . . . [An] edge-of-your-seat epic." —Elle

"Weaves a web through 1970s New York City, flashing forward and back, and uptown and downtown, with cinematic flair . . . It's Clue meets legendary music club CBGB, but Hallberg elevates his whodunit with poignancy. . . . His New York City is ablaze."—Time

"Warm and generous . . . Beautifully written, fantastically plotted—suspenseful and moving and full of interesting people and ideas. It's a book written to create communion between reader and writer." —Lydia Kiesling, The Millions

"A nostalgic, keenly observed book, one that understands how, for all its graffiti-sprayed vastness, for all its teeming, sooty chaos, New York is a lonely city." —More magazine

"Dizzyingly ambitious. . . . Like the city itself, the book sprawls unapologetically, teeming with punks, suits, cops, junkies, hacks, strivers, losers and artists. . . . Readers will be swept along by the suspenseful tale." —The Economist

"Gasp-inducing . . . A novel that word by word reaches out to capture the smallness of life, the minute particularity that stacks up until—whoa, baby—you've got a whole universe on your hands." —The Rumpus

"A novel that triumphs both New York City and stories themselves. . . . Like the work of other literary masters (Don DeLillo, David Foster Wallace, and Donna Tartt are just a few of the novelists worth drawing comparisons to) this is a book that will endure." —BookPage