Accardo: The Genuine Godfather (Mass Market)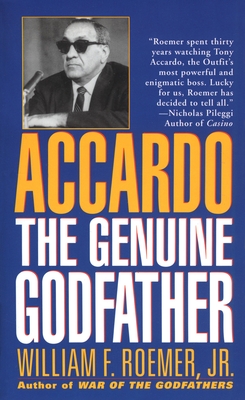 This item is not available for sale on this site.
Description
---
"A STORY THAT NO OTHER AUTHOR COULD HAVE PUT
TOGETHER . . . Roemer [is] America's most decorated FBI agent."
--Chicago Tribune
For forty years Tony Accardo was America's most dangerous criminal. He cut his teeth on the Chicago mob wars of Capone and Elliot Ness. He got his nickname "Joe Batters" for killing two men with a baseball bat. As the bodies piled up, Capone's youngest capo murdered and schemed his way to the top.
William Roemer was the first FBI agent to face Tony "The Big Tuna" Accardo. Now, Roemer tells the story that only he could tell: the deals, the hits, the double-crosses, and the power plays that reached from the Windy City to Hollywood and to New York. Drawing on secret wiretaps and inside information, ACCARDO chronicles bloodshed and mayhem for more than six decades--as Roemer duels against the most powerful don of them all. . . .
"Roemer brings the reality of organized crime home to us."
--Boston Herald
"A big, sprawled out account that serves as anecdotal history of organized crime."
--Kirkus Reviews
About the Author
---
William F. Roemer, Jr. (1926–1996) was a retired FBI agent well known for his role in infiltrating the Mafia. He wrote several books on his experience as an FBI agent, including Accardo: The Genuine Godfather and The Enforcer: Spilotro—The Chicago Mob's Man Over Las Vegas.