A Really Big Lunch: The Roving Gourmand on Food and Life (Paperback)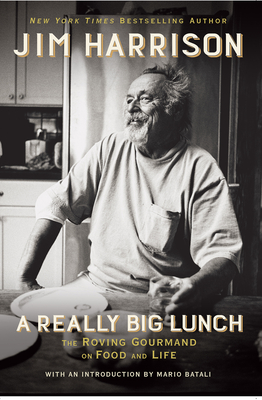 $17.00

Available from our Warehouse (Not in store currently)
Description
---
"A Really Big Lunch showcases Harrison's enthusiastic, funny, and uncompromising views on how to eat, drink, and live well . . . His writing is bodily, bawdy, sharp. The more we have of his voice, the better."--Boston Globe
A national bestseller and an Amazon Best Book of the Month in the Cookbook/Food & Wine category, now in paperback, A Really Big Lunch collects many of New York Times bestselling author Jim Harrison's essays on food for the first time--and taps into his larger-than-life appetite with wit and verve. In these pieces, Harrison muses on the relationship between hunter and prey, interrogates the obscure language of wine reviews, and delivers a manifesto against the bland, mass-produced food of our time, proposing instead what he calls the Vivid Diet. He delights in food from the most outr indulgence (a French lunch that went to thirty-seven courses) to a simple bowl of menudo. Harrison's food writing is a program for living, and A Really Big Lunch is shot through with his pointed aper us and keen delight in the pleasures of the senses. And between the lines the pieces give glimpses of Harrison's life over the last fifteen years. Lovingly introduced by master chef Mario Batali, A Really Big Lunch is a literary delight that will satisfy every appetite.
"The collection is chockablock with . . . zingers as well as plenty of half-baked, hilarious theories you can ponder while planning your first summer barbecue."--The Paris Review
About the Author
---
Jim Harrison (1937-2016) was the New York Times-bestselling author of thirty-nine previous books of fiction, non-fiction, and poetry, including Legends of the Fall, Dalva, and Returning to Earth. A member of the American Academy of Arts and Letters and winner of a National Endowment for the Arts grant, his work was published in twenty-seven languages.