The Big Seven (Hardcover)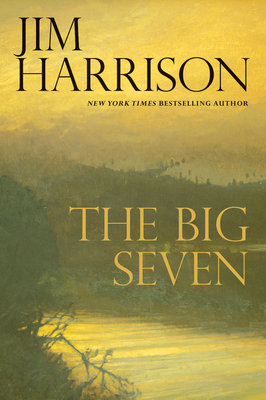 This item is not available for sale on this site.
Staff Reviews
---
It might surprise readers to know that The Big Seven in Jim Harrison's latest, and darkly comic novel, refers to the good old Seven Deadlys, which retired detective Sunderson is struggling to understand, even as he remains caught in the middle of them. And as Sunderson meditates on the evil going on around him, he can't help but notice his own willing participation in some of his favorite seven deadlys, especially one concerning women that has cost him the wife he loves and still longs for.
— Susan Lang
Description
---
Jim Harrison is one of our most renowned and popular authors, and his last novel, The Great Leader, was one of the most successful in a decorated career: it appeared on the New York Times extended bestseller list, and was a national bestseller with rapturous reviews. His darkly comic follow-up, The Big Seven, sends Detective Sunderson to confront his new neighbors, a gun-nut family who live outside the law in rural Michigan. Detective Sunderson has fled troubles on the home front and bought himself a hunting cabin in a remote area of Michigan's Upper Peninsula. No sooner has he settled in than he realizes his new neighbors are creating even more havoc than the Great Leader did. A family of outlaws, armed to the teeth, the Ameses have local law enforcement too intimidated to take them on. Then Sunderson's cleaning lady, a comely young Ames woman, is murdered, and black sheep brother Lemuel Ames seeks Sunderson's advice on a crime novel he's writing which may not be fiction. Sunderson must struggle with the evil within himself and the far greater, more expansive evil of his neighbor. In a story shot through with wit, bedlam, and Sunderson's attempts to enumerate and master the seven deadly sins, The Big Seven is a superb reminder of why Jim Harrison is one of America's most irrepressible writers.