Halo: First Strike: First Strike (Paperback)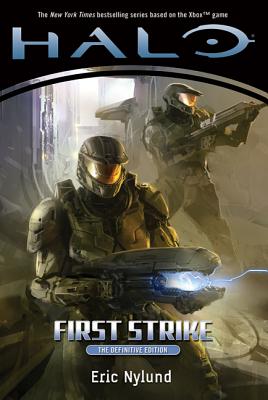 Other Books in Series
This is book number 3 in the Halo series.
Description
---
Reach fell, and when hope seemed lost, humanity stood face-to-face with the possible extinction of all life in the galaxy and lived to tell the tale.
But that was just one epic battle, and the war rages on . . .
The Covenant shows no mercy as they continue to assault every human world they can find, but in their way lies humanity's great champion, Spartan-117, the Master Chief. Together with his AI companion Cortana and the last remaining Spartans, the fight continues on two fronts.
One takes a crew of Spartans to the charred surface of Reach, the only planet they've ever known as home. But beneath the surface, Dr. Halsey has discovered an ancient secret…one that could alter the course of the war.
Meanwhile, Master Chief and Cortana head towards a gathering of Covenant warships because the UNSC's worst nightmare has come true: the Covenant has discovered the location of Earth and is forming a massive fleet to destroy it…and all who oppose the will of the Prophets.
About the Author
---
Eric Nylund is the author of Halo: The Fall of Reach, Halo: First Strike, and Halo: Ghosts of Onyx, as well as the epic mythology series beginning with Mortal Coils and All That Lives Must Die, and The Resisters series for middle-grade readers. Born in the Los Angeles area, Nylund grew up in the mountains and pine forests of Truckee, California, and the Joshua trees and rattlesnakes of the Mojave Desert. He earned degrees in chemistry at U.C. Santa Barbara and U.C. San Diego before leaving his Ph.D. program to become a writer. Besides writing his novels, he is the Director of Narrative Design at Microsoft Game Studios. He lives near Seattle on a rain-drenched mountain with his wife, Syne Mitchell, and their son.