Supercars 2022: 16-Month Calendar - September 2021 through December 2022 (Calendar)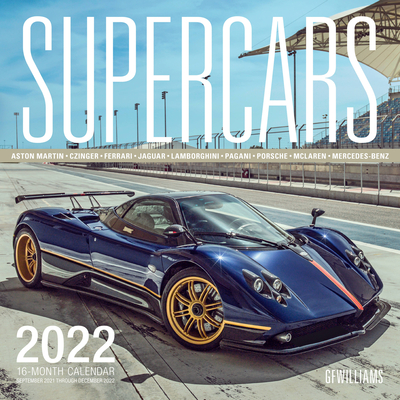 Description
---
Speed, power, and head-turning looks—there's no mistaking a supercar! In this 16-month wall calendar, G. F. Williams' superb photography captures the greatest high-performance offerings.

From classics like the Jaguar XJ220 and Ferrari 250 to today's stunning Bugatti, Pagani, and McLaren hypercars, Supercars 2022 features top makes and models from around the world. This 12"×12" wall calendar includes a convenient page that shows the months of September, October, November, and December 2021, followed by individual pages for the months of 2022.

Supercars 2022 belongs on the wall of any fan of these super high-performance machines.
About the Author
---
Starting photography at the age of 14, George F. Williams quickly realized he could unite photography with his other major passion—cars. His automotive photography career began as an obsession for cars and morphed into a very successful career photographing them. George's current client base includes some of the most prestigious automobile brands in the world.
Kris Palmer is a gearhead and writer whose work appears regularly in Minneapolis StarTribune automotive section and several enthusiast automotive magazines. Palmer contributed to Motorbooks' highly regarded The Cobra in the Barn and authored The Fast and the Furious: The Official Car Guide. When not racing down a deadline, he logs quality garage time in the company of his modified Triumph TR6.