Harley-Davidson® 2021: 16-Month Calendar - September 2020 through December 2021 (Calendar)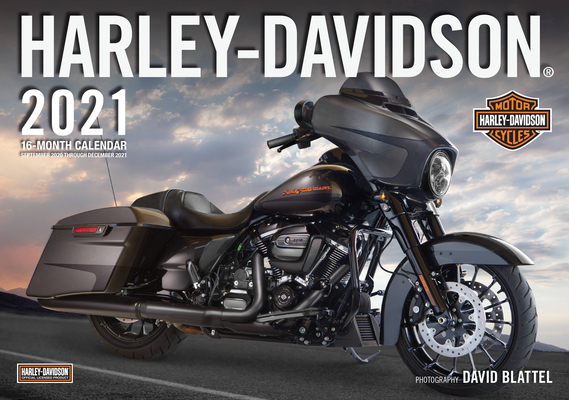 Description
---
Harley-Davidson® 2021 offers 16 months of motorcycle magnificence from the world's most celebrated motorcycle manufacturer. 
 
Produced in cooperation with Harley-Davidson®, this new edition of the best-selling calendar includes everything from sublime classics to today's top contemporary machines. Harley-Davidson® 2021 features beautiful portraits shot specifically for this calendar by veteran Harley-Davidson® photographer David Blattel, as well as historic images from the Harley-Davidson® archives. Included with the calendar is a stunning 17" × 12" frame-ready poster.
About the Author
---
David Blattel's professional photography career began over thirty years ago when he opened his first commercial studio in Hollywood. A compulsive creator, he pursues perfection in any project he undertakes. Blattel had worked for many Fortune 500 companies when, in 1989, he was chosen to create images for Harley-Davidson's calendar. For five consecutive years, he designed and created big sets and utilized amazing talent to photograph this calendar. In 1994 a new opportunity came along to photograph Harley-Davidson's "On Location" calendar Blattel is now going on his seventeenth consecutive year working with Harley-Davidson dealerships and collectors to produce Motorbooks' officially-licensed calendar. Blattel's clients include Disney, Warner Bros., Universal, General Motors, Honda Automobiles, Duracell, Epson, Mattel, Pepsi, St. Jude Medical, United Airlines, and Xerox. He resides in Southern California.