The One Percenter Encyclopedia: The World of Outlaw Motorcycle Clubs from Abyss Ghosts to Zombies Elite (Paperback)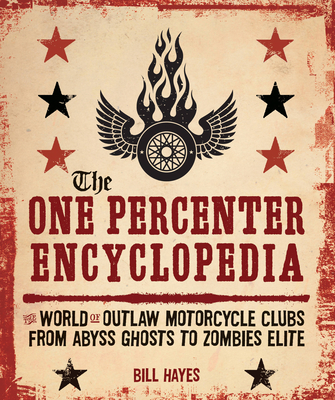 Description
---
Ever wonder how the Hells Angels got their name, or about that little demonic critter on the Pagan's patch? What about the local one-percenter motorcycle club that hangs out at the corner bar? What goes on there? This book answers these questions and more.

The One-Percenter Encyclopedia: The World of Outlaw Motorcycle Clubs from Abyss Ghosts to Zombies Elite features concise entries that include information on founding chapters, founding dates, number of chapters and members, club and leadership biographies, and more. This book covers all the major clubs--Hells Angels, Outlaws, Pagans, Mongols, Vagos--as well as lesser-known clubs from around the world. 
About the Author
---
Bill Hayes is one of those rare authors who abides by the age-old writing advice: "Write what you know." And for him, it works. His love for motorcycles--specifically the always-compelling biker culture--launched his writing success. His bestselling book, The Original Wild Ones: Tales of the Boozefighters Motorcycle Club, followed by American Biker (www.americanbikerthebook.com) and The One-Percenter Encyclopedia have all become classics within the genre. Hayes has served as the National Press and Publicity Officer for the Boozefighters Motorcycle Club (BFMC), continually striving to get the media to trade in their sensationalism for the truth.