The Original Wild Ones: Tales of the Boozefighters Motorcycle Club (Hardcover)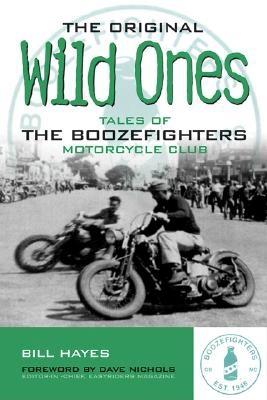 Description
---
The seminal event in "outlaw biker" culture was a 1947 weekend in Hollister, California. Motorcyclists, including members of the Boozefighters club, engaged in street racing and other raucous activities. A sensationalized report of the event ran in LIFE magazine, along with frightening (albeit posed) photos of the outlaws. Was the event (later portrayed in Marlon Brando's The Wild One) as wild as reported? Or, in truth, was it even wilder? The answer is found in this book filled with first-person accounts from past and present members of the Boozefighters and others on the scene. This is gripping narrative of a now-legendary event. It's a true story that is more interesting than the caricatured outlaw legend that has grown up around the name Hollister.
About the Author
---
Bill Hayes is one of those rare authors who abides by the age-old writing advice: "Write what you know." And for him, it works. His love for motorcycles--specifically the always-compelling biker culture--launched his writing success. His bestselling book, The Original Wild Ones: Tales of the Boozefighters Motorcycle Club, followed by American Biker (www.americanbikerthebook.com) and The One-Percenter Encyclopedia have all become classics within the genre.Hayes has served as the National Press and Publicity Officer for the Boozefighters Motorcycle Club (BFMC), continually striving to get the media to trade in their sensationalism for the truth.
Praise For…
---
"Hayes puts real human faces with, and lends authentic human voices to the legends, myths and lore of those early biker days . The narrative is helped along considerably by the many vintage photographs, most of them black-and-white snaps, that show clearly the youthful glint in the eyes of then-young-men. There is little tough-guy posturing in those old pictures. Most of the guys are smiling, happy to be alive and happy to be on their bikes . Frozen in time, they have no idea that they're about to ride straight into the history books. And that's what makes them so appealing and what makes The Original Wild Ones worth reading."
—
-
RoadBike, March 2006 (circ.: 55,997)
"A raucous and heartfelt recounting of the early days of biker clubs."
—
-
Minnesota Motorcycle Monthly, December 2007
"Mandatory reading for anyone interested in American motorcycling history.Three-out-of-four cylinders; four-out-of-four if you enjoy 'motorcycle lifestyle' periodicals.This is one delightful book."
—
-