32 Third Graders and One Class Bunny: Life Lessons from Teaching (Paperback)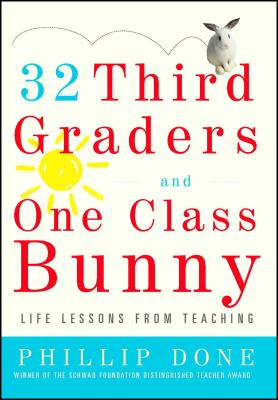 $16.99
Available from our Warehouse (Not in store currently)
Description
---
Now in paperback, to tie in with the publication of Phillip Done's new hardcover Close Encounters of the Third Grade Kind from Center Street, 32 Third Graders and One Class Bunny "brings the joys and terrors of elementary school back to life" (The Washington Times).

Phil Done has taught elementary school for twenty years. He fixes staplers that won't staple, zippers that won't zip, and pokes pins in the caps of glue bottles that will not pour. He has sung "Happy Birthday" 657 times. 32 Third Graders and One Class Bunny is for anyone who has ever taught children—or been to third grade. This collection of tightly written, connected essays is an "unexpected pleasure…an absolute joy" (Tucson Citizen) and a testament to the kids who uplift us—and the teachers we will never forget. With just the right mix of humor and wisdom, Done reveals the enduring promise of elementary school as a powerful antidote to the cynicism of our times.
About the Author
---
Phillip Done is the recipient of the Charles Schwab Distinguished Teacher Award. He was a Teacher of the Year in California and a nominee for the Disney Teacher of the Year Award. He teaches in Palo Alto and lives in Mountain View, California. Visit him at PhillipDone.org.
Praise For…
---
"Phillip Done reminds us of the excitement and joy of learning." -- Hal Urban, author of Life's Greatest Lessons and Positive Words, Powerful Results



"Phillip Done is the voice of the veteran teacher who knows who he is working for; his love for children shines on every page." -- Esme Raji Codell, author of Educating Esme and How to Get Your Child to Love Reading



"Every so often, a book surfaces that has such unabashed charm you want to praise it from the rooftops. 32 Third Graders and One Class Bunny is such a book. Simply put, it is an unexpected pleasure and richly deserves an A+." -- Tucson Citizen



"...funny and thoughtful" -- San Jose Mercury News



"Teacher's school tales are hilarious, poignant...Done is on his way to becoming to teachers what Erma Bombeck was to mothers - someone who can turn the mundane into hilarity." -- The Gazette, Colorado Springs



"He so simply captured the thoughtfulness and creativity of teaching" -- The Atlanta Journal-Constitution



"Phil Done's experiences as a third-grade teacher qualify him a humorist, essayist and will-you-be-my-new-best-friend? kinda guy...you're in for a treat." -- The Dallas Morning News



"Mr. Done is charming and funny...(He) brings back many memories that most of us have long forgotten." -- The Washington Times



"...touching and hilarious." -- Sunday World-Herald (Omaha)



"Delightful...a good book for anyone who ever went to third grade." -- Lincoln Journal Star