Lauren Greasewater's War (Paperback)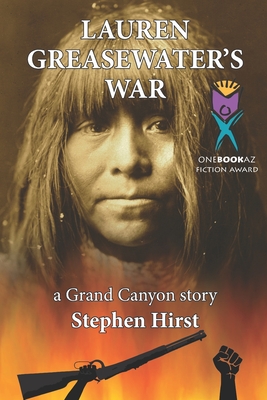 $14.95

Available from our Warehouse (Not in store currently)
(This book cannot be returned)
Staff Reviews
---
This is definitely a story not to miss. I'm certainly glad I didn't, and you will be as well. OneBookAZ did well to choose this unique novel by the Arizona author who also wrote, I Am the Grand Canyon.
— Susan Lang
Description
---
A ruined hunting shelter, a displaced Native American woman and the planetary weight of the U.S. government: the gunpowder that ignite Lauren Greasewater's War. Set in the 1970s, this historical novel traces an urban Indian woman's quest from the streets of New York to the canyons of the Southwest finding her way back to the community of her birth to reinvent herself as Lauren Greasewater. Caught between two dissonant worlds, she turns a cultural misunderstanding into an armed conflict that captures national attention.In her effort to save the place she was born, Lauren Greasewater's motley defenders see a struggle for recognition and a chance to regain their humanity. The war that ensues brings together the Vietnam-wracked Havasupai man Lauren loves, Lauren's strange wizard namesake Gwi Swaada, and her way into the Native American world.The updated text includes a diagram of Lauren's family and a glossary.
About the Author
---
Stephen Hirst and his wife Lois served with the first contingent of Peace Corps volunteers to Liberia, West Africa. Following Liberia, Steve studied international relations at The Johns Hopkins School of Advanced International Studies in Bologna, Italy. After Bologna, Steve became Soviet Desk Officer for the US Commerce Department and took part in the US government's first trade mission to eastern Europe. Later he served as Chief of Publications for the European Communities Information Service in Washington, DC. In 1967, Steve left the fast lane to begin a lifelong relationship with the Havasupai people of Arizona's Grand Canyon. During the eleven years Steve and his wife lived in Havasu Canyon, their daughter was born and the Havasupai asked the Hirsts to research and document the case for winning back ancestral land. Steve's award-winning book, I Am the Grand Canyon, and the historic enlargement of the Havasupai Reservation were the outcome of that work. Steve and his wife now live in Arizona, where they volunteer as interpretive rangers for the US Forest Service and continue their friendship and work with the Havasupai people.