The Days of Henry Thoreau: A Biography (Princeton Legacy Library #2039) (Paperback)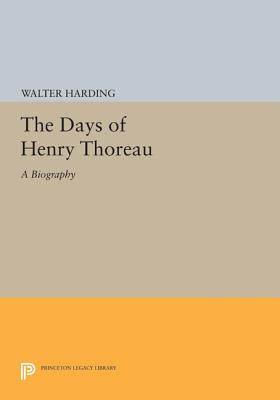 $67.00

Available from our Warehouse (Not in store currently)
Description
---
Henry David Thoreau is generally remembered as the author of Walden and Civil Disobedience, a recluse of the woods and a political protester who once went to jail. To his contemporaries he was a minor disciple of Emerson; he has since joined the ranks of America's most respected and beloved writers. Few, however, really know the complexity of the man they revere--wanderer and scholar, naturalist and humorist, teacher and surveyor, abolitionist and poet, Transcendentalist and anthropologist, inventor and social critic, and, above all, individualist.
In this widely acclaimed biography, the eminent Thoreau scholar Walter Harding presents all of these Thoreaus. Scholars will find here the culmination of a lifetime of research and study, meticulously documented, while general readers will find an absorbing story of a remarkable man. Writing with supreme lucidity, Harding has marshaled all the facts so as best to "let them speak for themselves." Thoreau's thoughtfulness and stubbornness, his more than ordinarily human amalgam of the earthy and sublime, his unquenchable vitality emerge to the reader as they did to his own family, friends, and critics. The new afterword evaluates new scholarship about Thoreau. Originally published in 1982. The
Princeton Legacy Library
uses the latest print-on-demand technology to again make available previously out-of-print books from the distinguished backlist of Princeton University Press. These editions preserve the original texts of these important books while presenting them in durable paperback and hardcover editions. The goal of the Princeton Legacy Library is to vastly increase access to the rich scholarly heritage found in the thousands of books published by Princeton University Press since its founding in 1905.
About the Author
---
Walter Harding is Distinguished Professor Emeritus of American Literature at the State University of New York at Geneseo.