A Leg to Stand On (Paperback)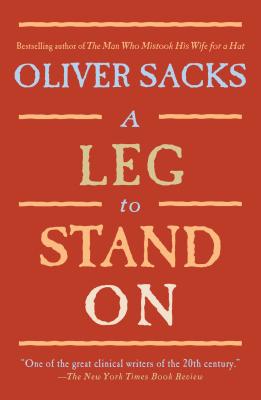 Description
---
Dr. Oliver Sacks's books Awakenings, An Anthropologist on Mars and the bestselling The Man Who Mistook His Wife For a Hat have been acclaimed for their extraordinary compassion in the treatment of patients affected with profound disorders.
In A Leg to Stand On, it is Sacks himself who is the patient: an encounter with a bull on a desolate mountain in Norway has left him with a severely damaged leg. But what should be a routine recuperation is actually the beginning of a strange medical journey when he finds that his leg uncannily no longer feels part of his body. Sacks's brilliant description of his crisis and eventual recovery is not only an illuminating examination of the experience of patienthood and the inner nature of illness and health but also a fascinating exploration of the physical basis of identity.
About the Author
---
Oliver Sacks was born in London and educated in London, Oxford, California, and New York. He is professor of clinical neurology at Albert Einstein College of Medicine. He is the author of many books, including Awakenings and A Leg to Stand On.
Praise For…
---
Jonathan Raban The Sunday Times (London) A remarkable, generous, vivid and thoroughly intelligent piece of writing -- a 'neurological novel,' as Sacks calls it.

Jerome Bruner The New York Review of Books A neurologist in [the] great tradition... [this is] a narrative comparable to Conrad's The Secret Sharer.

Vic Sussman The Washington Post Book World In calling for a neurology of the soul and a deeper and more humane medicine, Sacks's remarkable book raises issues of profound importance for everyone interested in humane health care and the human application of science.