Coming Through Slaughter (Vintage International) (Paperback)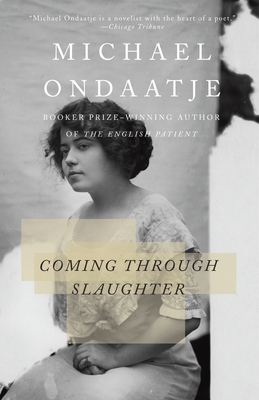 Description
---
Bringing to life the fabulous, colorful panorama of New Orleans in the first flush of the jazz era, this book tells the story of Buddy Bolden, the first of the great trumpet players--some say the originator of jazz--who was, in any case, the genius, the guiding spirit, and the king of that time and place.

In this fictionalized meditation, Bolden, an unrecorded father of Jazz, remains throughout a tantalizingly ungraspable phantom, the central mysteries of his life, his art, and his madness remaining felt but never quite pinned down. Ondaatje's prose is at times startlingly lyrical, and as he chases Bolden through documents and scenes, the novel partakes of the very best sort of modern detective novel--one where the enigma is never resolved, but allowed to manifest in its fullness. Though more 'experimental' in form than either The English Patient or In the Skin of a Lion, it is a fitting addition to the renowned Ondaatje oeuvre.
About the Author
---
Michael Ondaatje is the author of three previous novels, a memoir and eleven books of poetry. His novel The English Patient won the Booker Prize. Born in Sri Lanka, he moved to Canada in 1962 and now lives in Toronto.
Praise For…
---
"Really a remarkable piece of writing. . . . Brilliantly wrought." —Ken Adachi, Toronto Star

"A spectacular breakthrough into a new prose form." —Peter Newman, Globe and Mail

"Anybody who cares about good writing . . . should get this book and luxuriate in it." —Minneapolis Tribune

"One of the most innovative and liberating writers of our time." —Geoff Dyer, The Observer

"A beautifully detailed story, perhaps the finest jazz novel ever written." —The Sunday Times

"Coming Through Slaughter . . . is so stuffed full of the dolour and lust that both buoys and blemishes a life—it reads like a story dying to be told." —Books in Canada