The Unconsoled (Vintage International) (Paperback)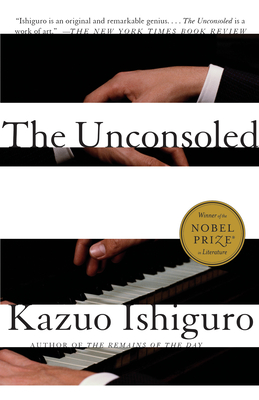 Description
---
From the winner of the Nobel Prize in Literature and author of the Booker Prize–winning novel The Remains of the Day, here is a novel that is at once a gripping psychological mystery, a wicked satire of the cult of art, and a poignant character study of a man whose public life has accelerated beyond his control.

The setting is a nameless Central European city where Ryder, a renowned pianist, has come to give the most important performance of his life. Instead, he finds himself diverted on a series of cryptic and infuriating errands that nevertheless provide him with vital clues to his own past. In The Unconsoled Ishiguro creates a work that is itself a virtuoso performance, strange, haunting, and resonant with humanity and wit.
About the Author
---
Kazuo Ishiguro is the 2017 winner of the Nobel Prize in Literature. His work has been translated into more than 40 languages. Both The Remains of the Day and Never Let Me Go have sold more than 1 million copies, and both were adapted into highly acclaimed films. Ishiguro's other work includes The Buried Giant, Nocturnes, A Pale View of the Hills, and An Artist of the Floating World.
Praise For…
---
"A work of great interest and originality.... Ishiguro has mapped out an aesthetic territory that is all his own...frankly fantastic [and] fiercer and funnier than before."—The New Yorker