Desert Solitaire (Paperback)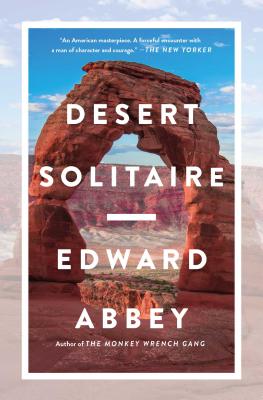 Staff Reviews
---
No other author writes as eloquently or as sincerely about the southwest - and in this tribute to wilderness Abbey is the Thoreau of the desert. A mesmerizing and often times painfully accurate portrayal of our relationship to the land we all rely upon. Let nature be wild.
— From
Susannah's Picks
Description
---
Hailed by The New York Times as "a passionately felt, deeply poetic book," the moving autobiographical work of Edward Abbey, considered the Thoreau of the American West, and his passion for the southwestern wilderness.

Desert Solitaire is a collection of vignettes about life in the wilderness and the nature of the desert itself by park ranger and conservationist, Edward Abbey. The book details the unique adventures and conflicts the author faces, from dealing with the damage caused by development of the land or excessive tourism, to discovering a dead body. However Desert Solitaire is not just a collection of one man's stories, the book is also a philosophical memoir, full of Abbey's reflections on the desert as a paradox, at once beautiful and liberating, but also isolating and cruel. Often compared to Thoreau's Walden, Desert Solitaire is a powerful discussion of life's mysteries set against the stirring backdrop of the American southwestern wilderness.
About the Author
---
Edward Abbey was born in Home, Pennsylvania, in 1927. He was educated at the University of New Mexico and the University of Edinburgh. He died at his home in Oracle, Arizona, in 1989.
Praise For…
---
The New Yorker An American Masterpiece. A Forceful Encounter with a Man of Character and Courage.

The New York Times Book Review Like a ride on a bucking bronco...rough, tough, combative. The author is a rebel and an eloquent loner. His is a passionately felt, deeply poetic book...set down in a lean, racing prose, in a close-knit style of power and beauty.