Take Back the Game: How Money and Mania Are Ruining Kids' Sports--and Why It Matters (Hardcover)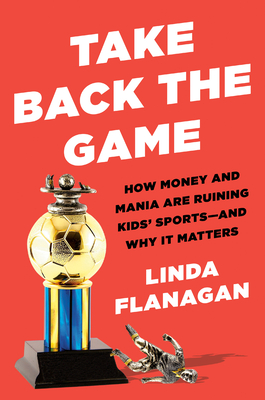 $28.00

Available from our Warehouse (Not in store currently)
Description
---
Longlisted for the Porchlight Business Book Awards 2022

A close look at how big money and high stakes have transformed youth sports, turning once healthy, fun activities for kids into all-consuming endeavors—putting stress on children and families alike
Some 75% of American families want their kids to play sports. Athletics are training grounds for character, friendship, and connection; at their best, sports insulate kids from hardship and prepare them for adult life. But youth sports have changed so dramatically over the last 25 years that they no longer deliver the healthy outcomes everyone wants. Instead, unbeknownst to most parents, kids who play competitive organized sports are more likely to burn out or suffer from overuse injuries than to develop their characters or build healthy habits. What happened to kids' sports? And how can we make them fun again?
In
Take Back the Game
, coach and journalist Linda Flanagan reveals how the youth sports industry capitalizes on parents' worry about their kids' futures, selling the idea that more competitive play is essential in the feeding frenzy over access to colleges and universities. Drawing on her experience as a coach and a parent, along with research and expert analysis, Flanagan delves into a national obsession that has:
Compelled kids to specialize year-round in one sport.
Increased the risk of both physical injury and mental health problems.
Encouraged egregious behavior by coaches and parents.
Reduced access to sports for low-income families.
A provocative and timely entrant into a conversation thousands of parents are having on the sidelines,
Take Back the Game
uncovers how youth sports became a serious business, the consequences of raising the stakes for kids and parents alike--and the changes we need now.
About the Author
---
LINDA FLANAGAN is a freelance journalist, researcher, and former cross-country and track coach. A graduate of Lehigh University, Flanagan holds master's degrees from Oxford University and the Fletcher School of Law & Diplomacy and was an analyst for the National Security Program at Harvard University. She is a founding board member of the New York City chapter of the Positive Coaching Alliance and a 2020–21 advisory group member for the Aspen Institute's Reimagining School Sports initiative, and her writing on sports has appeared in The Atlantic, Runner's World, and on NPR's education site MindShift, where she is a regular contributor. A mother of three and a lifelong athlete, Flanagan lives in New Jersey.
Praise For…
---
"Searing indictment of the current state of youth sports . . . It's all too easy for parents to recognize that there's a problem, but it's much harder to swim against the societal current on your own. Here's hoping Flanagan's book helps kickstart a movement."
—ALEX HUTCHINSON's 2022 Sweat Science Holiday Book List, Outside Magazine

"I think Take Back the Game is a profoundly important book. Every parent needs to read it."
—MALCOLM GLADWELL, host of the podcast Revisionist History

"This book is for anyone who has ever found themselves spending entire weekends at youth soccer events and asked, 'Why?'"
—NEW YORK POST, Best Books of 2022

"Youth sports should be about having fun, making friends, learning skills, and slowly developing over time. As a two-time Olympian, I have been concerned for years about tournaments, camps, and competitions forcing kids to specialize, and the costs of eliminating opportunity. In Take Back the Game Linda Flanagan offers us solutions and actions to help take back sports for our children, to return it to a powerful yet positive experience. Any parent with a child should read this book."
—KARA GOUCHER, two-time Olympian runner and author of Strong

"Take Back the Game is an important corrective to the commercialization of youth sports, which, as Flanagan so elegantly shows, helps nobody—including the athletes themselves. Her solution is simple but not easy: it's time we place the long-term health and performance of kids above the short-term goals of coaches, parents, and the entire youth sports industrial complex."
—BRAD STULBERG, author of The Practice of Groundedness and Peak Performance

"If you've been wondering how youth sports came to dominate your child's life—and your own—here is the answer, written with clarity. In this well-researched, passionate book, mom/coach/athlete Flanagan digs to find out how something so wonderful went so sour, and how to bring back the best part of sports for our kids."
—LENORE SKENAZY, president of Let Grow and founder of the Free-Range Kids movement

"Flanagan has the guts and the experience (and the talent) to take on the youth sports 'industry' and the cost it has exacted from kids' and from families' physical and mental well-being. A must-read book for every parent who has a kid in sports or is just beginning to think about it. Can't recommend highly enough!"
—MADELINE LEVINE, PhD, author of the New York Times bestsellers The Price of Privilege, Teach Your Children Well, and Ready or Not

"Linda Flanagan brilliantly dissects this topic with the precision of a scholar, the empathy of a caring coach, the chagrin of a former manic sports parent, and the literary flair of a novelist. Beyond compelling analysis, Take Back the Game offers thoughtful and realistic solutions to the current debacle of hyper-commercialized youth sports. Please read this book before enrolling your three-year-old in a travel soccer league."
—RICK ECKSTEIN, PhD, professor of sociology and criminology at Villanova University and author of How College Athletics Are Hurting Girls' Sports

"What is the highest purpose of youth sports? It is to teach sportsmanship to young people; a far cry from the miserable boy somewhere in suburbia whose mother is yelling at his coach and who's swearing to himself that he'll never play this sport again. In this book Linda Flanagan tells you how we got this way—and offers a way out. Highly recommended."
—CAITLIN FLANAGAN, staff writer for The Atlantic and author of Girl Land and To Hell with All That

"Linda Flanagan is a treasure – among the very few writers who understands our youth sport ecosystem and how to improve it. Take Back The Game is both fun read and must-read for anyone who believes in the power of sports to build lives and communities."
—TOM FARREY, founder of Aspen Institute's Project Play and author of Game On: The All-American Race to Make Champions of Our Children