Mental Toughness For Young Athletes: Eight Proven 5-Minute Mindset Exercises For Kids And Teens Who Play Competitive Sports (Paperback)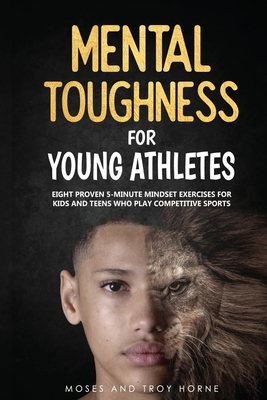 $14.95

Available from our Warehouse (Not in store currently)
(This book cannot be returned)
Description
---
Finally There is A Mental Toughness Book For Young Athletes
Moses and Troy Horne here. Your mental toughness guides If you are reading this you probably have a young athlete who struggles with in-game stress and maybe even sports performance anxiety. That is why this version was mostly written by Moses. As of the time of the writing of this book Moses Horne is a 15-year-old elite athlete who can talk directly about the triumphs and struggles of working towards being mentally tough. This is the only book that I know of with input from an actual young athlete.
My name is Troy Horne. I'm his dad. I am here to help the parents understand how to help their kiddos navigate this mental toughness journey. For more on that make sure that you pick up the Parent's guide version of this book - Mental Toughness for Young Athletes: Eight Proven 5-Minute Mindset Exercises For Kids And Teens In Competitive Sports (Parent's Guide) It's super necessary. We know where you are and we know how to help you help your young athlete find their mental fortitude. We have purchased a lot of books about mental toughness in sports.
Most of the books that we read were not a good fit for young athletes because they were either written for adults or not written for youth athletes in COMPETITIVE sports. There is a difference.
Since there wasn't anything out there for elite athletes I did what every youth sports parent does when they want to help their kid. I started my own team JUUUUST KIDDING (I probably should have, but I didn't believe that I would be able to do it well. I lacked mental confidence myself I guess. We talk about that in the parent's version of this book too.)
We took the long journey of ups and downs. We struggled to help our young athlete find his mental toughness. IT WAS ROUGH Luckily along the way, we found the winning formula thanks to being able to talk with sports icons personally.
We launched a podcast together called Hoopchalk Basketball Podcast and on it, we interviewed sports MENTAL TOUGHNESS GIANTS like...
Chauncey Billups
Tywanna Smith
Keiko Yoshimine
Earl Boykins
Jason Richardson and
Kobe Bryant
We studied what they did and said based on our interviews and we came up with a mental toughness plan that worked We wrote down what worked for our young athlete and we put it in this book so that you would be able to skip a lot of the struggle and failure part. No need for everyone to struggle right?
In this book, we are going to share with you what we learned from talking to NBA Athletes, NFL Athletes, EuroLeague Athletes, College Coaches, and College Athletes as well.
Does your child perform better in practice than they do when the game or when the "Lights Come On"?
Do they seem like they are losing their love for the game?
Do you want to help them?
If you answered yes to these questions then you are in the right place. This book is the answer that you have been looking for I can say this with confidence because I have used everything that I am going to share with you in this book with my son and it has worked.
What a blessing to get the keys to mental toughness straight from greats I look forward to sharing what we learned with you
This stuff is a game-changer and it's made specifically for young athletes
Order your copy now to improve your young athlete's mental toughness level for good