A World Transformed: Slavery in the Americas and the Origins of Global Power (Hardcover)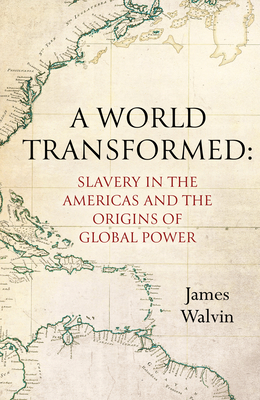 $34.95

Available from our Warehouse (Not in store currently)
Description
---
A comprehensive study of how slavery and enslaved people shaped the modern world.
 
A World Transformed explores how slavery thrived at the heart of the entire Western world for more than three centuries. Arguing that slavery can be fully understood only by stepping back from traditional national histories, this book collects the scattered accounts of the latest modern scholarship into a comprehensive history of slavery and its shaping of the world we know. Celebrated historian James Walvin tells a global story that covers everything from the capitalist economy, labor, and the environment, to social culture and ideas of family, beauty, and taste.
 
This book underscores just how thoroughly slavery is responsible for the making of the modern world. The enforced transportation and labor of millions of Africans became a massive social and economic force, catalyzing the rapid development of multiple new and enormous trading systems with profound global consequences. The labor and products of enslaved people changed the consumption habits of millions––in India and Asia, Europe and Africa, in colonized and Indigenous American societies. Across time, slavery shaped many of the dominant features of Western taste: items and habits or rare and costly luxuries, some of which might seem, at first glance, utterly removed from the horrific reality of slavery. A World Transformed traces the global impacts of slavery over centuries, far beyond legal or historical endpoints, confirming that the world created by slave labor lives on today.
About the Author
---
James Walvin is Professor of History Emeritus at the University of York. He has published widely on modern social history and the history of slavery. He has held fellowships in Britain, the United States, Australia, and the Caribbean. In 2008 he was awarded the O.B.E. for his services to scholarship.
 
Praise For…
---
"Meticulous and eye-opening. . . . This richly detailed yet approachable history makes clear just how far and wide the grip of slavery reached."
— Publishers Weekly

"Walvin's beautifully written and compassionate narrative artfully synthesizes modern scholarship on slavery. He successfully decenters the nation-state to show the interconnectedness of the slave trade and the Atlantic economies and to demonstrate slavery's enormous human and environmental effects. . . . Walvin masterfully conveys the tragedy and enormity of his subject without losing details or forgetting his subjects' humanity."
— Library Journal

"This single volume, written in clear and energetic prose, covers everything from the beginning of European slaving operations in West Africa at the end of the 15th century to the worldwide wave of anti-racism protests that followed in the wake of the murder of George Floyd in 2020. . . . Its compendious, comprehensive coverage makes it very valuable."
— Post and Courier

"Walvin shows that slavery mattered in the past and matters now, in powerful and compelling prose. It is a tour de force."
— Family & Community History