Blank Pages: And Other Stories (Hardcover)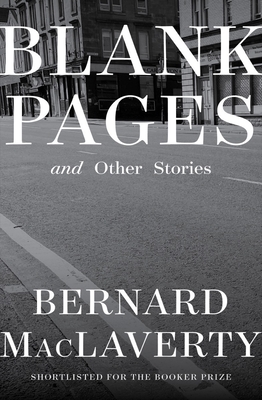 Description
---
A Library Journal Best Book of 2022 in Short Stories



A collection of twelve powerful and moving new stories from one of Ireland's most celebrated writers.
Tinged with melancholy but rooted in resiliency, the exquisite stories of Bernard MacLaverty's Blank Pages display the perseverance of the human spirit. In "A Love Picture," a middle-aged woman, already no stranger to loss, consults a World War II newsreel to determine the fate of her son. "Blackthorns" tells of a poor, out-of-work Catholic man who falls gravely ill in the sectarian Northern Ireland of 1942 but is brought back from the brink by an unlikely savior. The harrowing but transcendent "The End of Days" imagines life in another pandemic as artist Egon Schiele and his wife, both stricken with the Spanish flu, spend their final days together. And in the poignant title story, an elderly writer takes stock of what remains after losing his life partner.
Blank Pages elegantly probes MacLaverty's signature themes—domestic love, Catholicism, the Troubles, aging—with compassion and insight. A consummately gifted storyteller, MacLaverty uncovers the turbulent undertones of seemingly ordinary human interactions and explores endings of all kinds with tenderness, affection, and wry humor.
Acclaimed for his extraordinary emotional range and "telescopic observational powers" (Sam Sacks, Wall Street Journal), MacLaverty captures the joys and sorrows of everyday existence in crystalline, precise prose. Each resonant story in Blank Pages reminds us again why he is regarded as one of the greatest living Irish writers.
About the Author
---
Bernard MacLaverty is the author of six collections of stories and five novels, including Grace Notes, which was shortlisted for the Booker Prize, and Midwinter Break, shortlisted for the International Dublin Literary Award. Born in Ireland, he now lives in Glasgow, Scotland.
Praise For…
---
MacLaverty writes with such compassion that his stories never feel bleak; they feel humane... The continuous encounters with such exquisite impressions immerse you in each narrative, leaving you vulnerable to its emotional punch.
— Claire Oshetsky - New York Times Book Review

MacLaverty's Ireland isn't a cloying caricature of lush meadows and magic. Rather, it is a place of raw beauty, unforgiving weather, and inexplicable violence, sadness and joy, where laughter, prayer and often alcohol help drown out an unrelenting descant of despair.
— Brenda Cronin - Wall Street Journal

Deceptively simple stories by a master of the form perfectly capture moments of reckoning and reflection, in life and in art.
— Ellen Atkins - Minneapolis Star Tribune

Bernard MacLaverty locates the precise point where life bleeds into art, and art into life. Even in the briefest of his stories his themes emerge slowly, unforced, as if pondering themselves; like the best writers through the ages, he is confident and questioning, engaged and wise.
— Hilary Mantel, author of The Mirror and the Light

Bernard MacLaverty approaches his characters with sympathy and a sharpened sense of the inner life. The stories in Blank Pages approach aging, art, memory, regret with luminous precision and grace. MacLaverty works with meticulous care, like a portrait painter.

— Colm Tóibín, author of The Magician

These stories are filled with quiet, graceful beauty. They are the stuff of everything, both local and universal at the same time. MacLaverty is one of our great writers—he finds us at our moments of loss.
— Colum McCann, author of Apeirogon

Bernard MacLaverty's stories read like gentle tales about people who care for each other—he is brilliant at familiarity, long love and the domestic round—but his real subject is bigotry, the wider hatreds and beliefs that keep our lives small and this theme keeps his work relevant for the ages. He is a master of the short story form.
— Anne Enright, author of Actress

MacLaverty brings humor, sympathy, and an unshowy eloquence to the conventional short story... A fine collection by a true craftsman, thematically rich and deeply humane.
— Kirkus Reviews (starred review)

Reading MacLaverty, we inhabit the characters' lives from the inside out, arriving at an exquisitely intimate sense of common humanity as we share the everyday mysteries they inhabit.
— John Burnside - Times Literary Supplement

[In Blank Pages] we find moments of routine interrupted, examples of the fragility of peace and perfectly sculpted vignettes of drama that are no less powerful for their quietness. . . . MacLaverty's real skill lies in creating atmosphere, in presenting images that last in the mind.… These are stories that must be listened to carefully to catch their deafening boom.

— Zoë Apostolides - Financial Times

Bernard MacLaverty is a master of the [atmospheric short] story.… By that I mean I can't think of anyone who does it better.… By shedding a sympathetic light on difficult moments in people's lives, he enriches our experience of each other.
— Allan Massie - Scotsman

[MacLaverty's] care and deliberation show.… He is a matchless observer of human details.
— John Self - Guardian

A deft and life-affirming collection by a master of the form.… [These twelve stories] are bright bullets that lodge, written in spare but achingly accurate prose.
— Sarah Gilmartin - Irish Times

Striking.… This fine collection reaffirms MacLaverty's place among the greatest short story writers of his generation.
— Alexander Larman - Observer