The Man Who Would Stop at Nothing: Long-Distance Motorcycling's Endless Road (Paperback)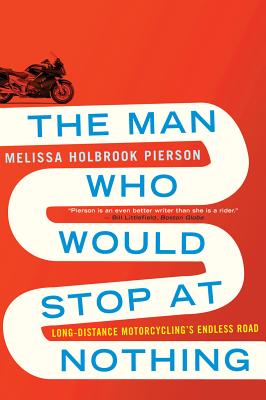 $15.95
Email or call for price.
Description
---
"Pierson is an even better writer than she is a rider."—Boston Globe
"World's Toughest Motorcycle Riders"—long-distance motorcycling is not a pastime but an obsession. In this candid, eloquent, sharply observed book, Melissa Holbrook Pierson introduces us to this strange endeavor and the men and women who live to ride impossibly long distances, eating up road, almost without cease. And who find it nothing but fun.
Perhaps the most determined of them is John Ryan, a magnetic, enigmatic man who loves nothing better than breaking records of amazing distance—at no small risk to himself and his health. But why? Pierson, who rediscovered the joys of motorcycling in the midst of a personal crisis, puts on her helmet and joins Ryan in his element in order to understand his singular desire and discipline, his passion and his obsession.
The Man Who Would Stop at Nothing
offers an intimate glimpse of an unusually independent yet supportive community as well as a revealing, unforgettable portrait of its most daring member. In electric, pitch-perfect prose, Pierson gives us rare insights into not only a subculture but also the deeply human craving for something more that drives it.
About the Author
---
Melissa Holbrook Pierson is the author of The Perfect Vehicle, The Place You Love Is Gone, Dark Horses and Black Beauties, and The Man Who Would Stop at Nothing and The Secret History of Kindness. She lives in Shokan, New York.
Praise For…
---
[The book's] deeper concern is with reinventing the self at midlife . . . and the way that an avocation—even one that seems incomprehensible to outsiders—can give life meaning.
— Albany Times Union

Good motorcycle books don't come along often enough. Books that take you to motorcycle netherworlds and make you look differently at life are even more rare.
— Bikeland

Starred Review. Pierson's marvelously engaging account of her resumption of long-distance motorcycling after years of hiatus proves pure pleasure for the aficionado…. Her stately, lyrical prose, profound respect for the machinery, and sympathy for the extreme adventurers will transport even the most unlikely readers.
— Publishers Weekly

Written in beautifully expressed prose, The Man offers by the bucket-load brilliant insights into what drives and motivates motorcyclists of all stripes…. Pierson does a wonderful job at getting to the heart, the principles that define the joy of motorcycling…. An absorbing, sanguine story that will be talked about for years to come, if not forever.

— Victor Cruz - BMW ON Magazine

Eloquent and probing, Pierson brings us back to the future with the reawakening of her love for motorcycles. Her riding days long dormant, Pierson credits meeting and befriending the charismatic distance rider, John Ryan with guiding her back to bikes and in the process, reminding her of who she is and what makes her sing. A beautiful story of passion and reclamation for anyone who has ever lost the way.
— Susan Richards, author of the bestselling Chosen by a Horse