Master and Commander (Aubrey/Maturin Novels #1) (Paperback)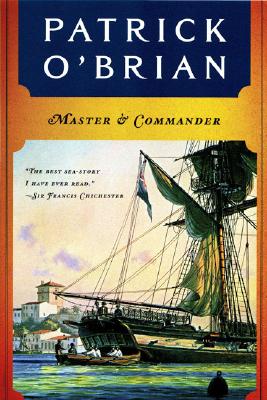 Other Books in Series
This is book number 1 in the Aubrey/Maturin Novels series.
Staff Reviews
---
This, my dear, is the first book in the great immortal adventure story of the world. The finest, funniest, most thrilling & fulfilling epic narrative in English, peopled by the best-drawn and most memorable characters we know of. O'Brian will sweep you away. Be you sea-dog or lubberly literary cove, read it, for all love! There is not a moment to be lost!
— Reva
Description
---
The beginning of the sweeping Aubrey-Maturin series. "The best sea story I have ever read."—Sir Francis Chichester
This, the first in the splendid series of Jack Aubrey novels, establishes the friendship between Captain Aubrey, R.N., and Stephen Maturin, ship's surgeon and intelligence agent, against a thrilling backdrop of the Napoleonic wars. Details of a life aboard a man-of-war in Nelson's navy are faultlessly rendered: the conversational idiom of the officers in the ward room and the men on the lower deck, the food, the floggings, the mysteries of the wind and the rigging, and the roar of broadsides as the great ships close in battle.
About the Author
---
Patrick O'Brian's acclaimed Aubrey/Maturin series of historical novels has been described as "a masterpiece" (David Mamet, New York Times), "addictively readable" (Patrick T. Reardon, Chicago Tribune), and "the best historical novels ever written" (Richard Snow, New York Times Book Review), which "should have been on those lists of the greatest novels of the 20th century" (George Will).

Set in the Royal Navy during the Napoleonic Wars, O'Brian's twenty-volume series centers on the enduring friendship between naval officer Jack Aubrey and physician (and spy) Stephen Maturin. The Far Side of the World, the tenth book in the series, was adapted into a 2003 film directed by Peter Weir and starring Russell Crowe and Paul Bettany. The film was nominated for ten Oscars, including Best Picture. The books are now available in hardcover, paperback, and e-book format.

In addition to the Aubrey/Maturin novels, Patrick O'Brian wrote several books including the novels Testimonies, The Golden Ocean, and The Unknown Shore, as well as biographies of Joseph Banks and Picasso. He translated many works from French into English, among them the novels and memoirs of Simone de Beauvoir, the first volume of Jean Lacouture's biography of Charles de Gaulle, and famed fugitive Henri Cherriere's memoir Papillon. O'Brian died in January 2000.
Praise For…
---
My hero is Patrick O'Brian…I read all of his books many, many times. I've read them so many times I can't read them anymore because eventually you know the whole book by heart.
— David Mamet

The best historical novels ever written.
— Richard Snow

Taken as a whole, the Aubrey-Maturin novels are by a long shot the best things of their kind…they are uniquely excellent.
— Terry Teachout

There are two types of people in the world: Patrick O'Brian fans, and people who haven't read him yet.
— Lucy Eyre

[The series shows] a joy in language that jumps from every page…you're in for a wonderful voyage.
— Cutler Durkee

One does not get many pages into the Aubrey-Maturin sequence before falling under the spell of O'Brian's prose, which is…elegantly paced, quietly witty.
— Katherine A. Powers

If Jane Austen had written rousing sea yarns, she would have produced something very close to the prose of Patrick O'Brian.

O'Brian is a novelist, pure and simple, one of the best we have.

I prefer the Aubrey-Maturin series to all others, even Holmes-Watson. Every book is packed to absolute straining with erudition, wit, history, and thunderous action.
— Joe Hill