American Gods (Mass Market Paperbound)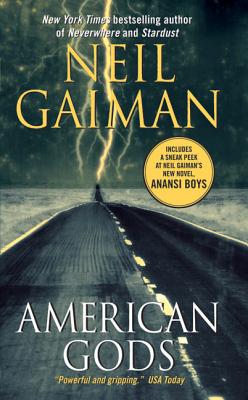 This item is not available for sale on this site.
Staff Reviews
---
The old gods, brought to America by waves of immigrants, rally to battle for their lives against the new gods of media and internet, strip mall and TV. Shadow, an ordinary man, is swept into a world where a coin can be the moon, where the boundaries between life and death, real and unreal no longer have meaning, where gods may break their promises but mortals cannot. Great fun, twisty and intelligent.
— Reva
Description
---
Shadow is a man with a past. But now he wants nothing more than to live a quiet life with his wife and stay out of trouble. Until he learns that she's been killed in a terrible accident.
Flying home for the funeral, as a violent storm rocks the plane, a strange man in the seat next to him introduces himself. The man calls himself Mr. Wednesday, and he knows more about Shadow than is possible.
He warns Shadow that a far bigger storm is coming. And from that moment on, nothing will ever he the same...
Praise For…
---
American Gods is sexy, thrilling, dark, funny and poetic."
-Teller, of Penn & Teller

"Original, engrossing, and endlessly inventive; a picaresque journey across America where the travelers are even stranger than the roadside attractions."
-George R. R. Martin

"American Gods is like a fast run downhill through a maze -- both exhilarating and twisted."
-Jane Lindskold, author of Changer and

"Gaiman understands the shape of stories."
-Patrick Rothfuss, www.tor.com