A Common Life: The Wedding Story (Large Print / Paperback, Large Print)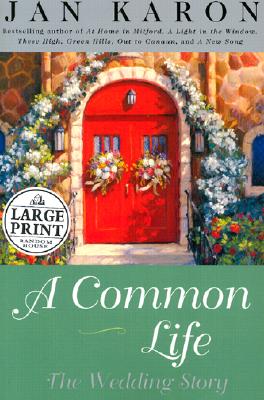 Description
---
Mitford's Lord's Chapel seats barely two hundred souls, yet millions of Jan Karon's fans will be there for the most joyful event in years: The wedding of Father Time Kavanagh and Cynthia Coppersmith.  Here at last is A Common Life, and the long-awaited answers to these deeply probing questions: Will Father Time fall apart when he takes his vows?  Will Cynthia make it to the church on time?  Who'll arrange the flowers and bake the wedding cake?  And will Uncle Billy's prayers for a great joke be answered in time for the reception?

All the beloved Mitford characters will be there: Dooley Barlowe, Miss Sadie and Louella, Emma Newland, the mayor; in short, everybody who's anybody in the little town with the big heart.

A Common Life is the perfect gift for Mother's Day, Father's Day, anniversaries, and for a bride or groom to give their beloved.  In truth, it's perfect for anyone who believes in laughter, relies on hope, and celebrates love.

Jan Karon says she writes "to give readers an extended family, and to applaud the extraordinary beauty of ordinary people living ordinary lives."