Opened Ground: Selected Poems, 1966-1996 (Paperback)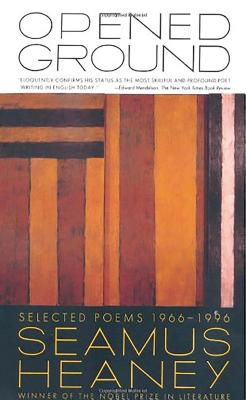 $19.00
Usually Ships in 1-5 Days
Staff Reviews
---
This is the one to get if you love Heaney: it spans 30 years of his work and includes his Nobel Lecture as well as sequences from The Cure at Troy and Sweeney Astray. Also the one to get if you don't love Heaney: because you will. His poetry stings and lingers like peat smoke; it speaks to the marrow of your bones.
— Reva
Description
---
As selected by the author, Opened Ground includes the essential work from Heaney's twelve previous books of poetry, as well as new sequences drawn from two of his landmark translations, The Cure at Troy and Sweeney Astray, and several previously uncollected poems. Heaney's voice is like no other--"by turns mythological and journalistic, rural and sophisticated, reminiscent and impatient, stern and yielding, curt and expansive" (Helen Vendler, The New Yorker)--and this is a one-volume testament to the musicality and precision of that voice. The book closes with Heaney's Nobel Lecture: "Crediting Poetry."
About the Author
---
Seamus Heaney (1939-2013) received the Nobel Prize in Literature in 1995. His poems, plays, translations, and essays include Opened Ground, Electric Light, Beowulf, The Spirit Level, District and Circle, and Finders Keepers. Robert Lowell praised Heaney as the "most important Irish poet since Yeats."
Praise For…
---
"[This collection] eloquently confirms his status as the most skillful and profound poet writing in English today." —Edward Mendelson, The New York Times Book Review

"Perhaps the best descriptions of Seamus Heaney's extraordinarily rich and varied oeuvre come from the poet's own work. Mr. Heaney has created a remarkable series of poems that stay 'true to the impact of external reality' while at the same time remaining 'sensitive to the inner laws of the poet's being.'" —Michiko Kakutani, The New York Times

"Having just reread most of his poems, I find myself more, not less, interested, and convinced that I have only begun to plumb their bracing depths . . . The poems stay in the mind, which is the one essential feature of major poetry." —Jay Parini, The Nation

"Heaney's commitment to the independence of his art, to the pursuit of shape and richness and abundant ambiguity, is also a profound commitment to the quality of public life . . . In a dark time, Heaney . . . has turned borders and dividing lines into rich frontiers." —Fintan O'Toole, The New York Review of Books