The Counselor (Movie Tie-in Edition): A Screenplay (Vintage International) (Paperback)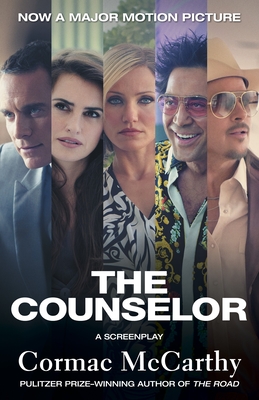 Description
---
On the eve of becoming a married man, the Counselor makes a risky entrée into the drug trade—and gambles that the consequences won't catch up to him.
 
Along the gritty terrain of the Texas–Mexico border, a respected and recently engaged lawyer throws his stakes into a cocaine trade worth millions. His hope is that it will be a one-time deal and that, afterward, he can settle into life with his beloved fiancée. But instead, the Counselor finds himself mired in a brutal and dangerous game—one that threatens to destroy everything and everyone he loves. Deft, shocking, and unforgettable, McCarthy is at his finest in this gripping tale about risk, consequence, and the treacherous balance between the two.
About the Author
---
Born in Rhode Island in 1933 but raised and educated in Tennesee, Cormac McCarthy is the author of a dozen previous novels and the recipient of the Pulitzer Prize, the National Book Award, and the National Book Critics Circle Award.
Praise For…
---
"McCarthy's philosophic and erudite dialogue, vivid explosion, and intriguing characters give the story a unique vitality." —Booklist

More Praise for Cormac McCarthy:

"Like the novelists he admires—Melville, Dostoyevsky, Faulkner—Cormac McCarthy has created an imaginative oeuvre greater and deeper than any single book. Such writers wrestle with the gods themselves." —The Washington Post Book World

"McCarthy's prose [is] the most laudable, his characters the most fully inhabited, his sense of place the most bloodworthy and thoroughly felt of any living writer's."—Esquire

"McCarthy is one of the most richly stylized writers in American letters." —San Francisco Chronicle

"McCarthy justifies the very worth of fiction in the consummate breadth and dimension of his work." —New York Post

"The genius of McCarthy's work [is] in its bold, seamless melding of private revelation, cultural insight, and unabashed philosophizing." —The Village Voice

"He is nothing less than our greatest living writer." —Houston Chronicle