Stories in the Stars: An Atlas of Constellations (Hardcover)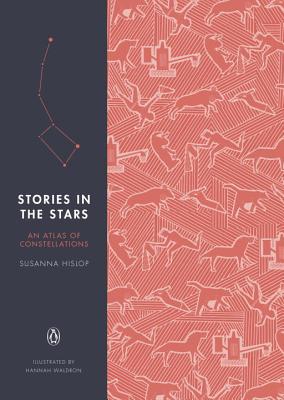 This item is not available for sale on this site.
Description
---
A beautifully illustrated Penguin Hardcover that invites readers to travel the night sky and discover the universe of stories in the stars
 
To those who can decipher it, the night sky is alive with gods and goddesses, animals and mythical creatures—an endless carnival played out in shining constellations. Amidst this jet-black canvas pricked with white dots, a hunter leaps in pursuit with his dogs at his heels, a sea monster threatens a maiden in distress, and a pair of twins lives forever.

In Stories in the Stars, writer and stargazer Susanna Hislop and international artist Hannah Waldron present an imaginative journey through the heavens. Leaping between centuries, cultures, and traditions, they explore each of the night sky's eighty-eight constellations through gorgeous illustrations and vivid descriptions that will linger in readers' minds long after they've closed the book and stepped outside on a starry night.
About the Author
---
Susanna Hislop is an actor, writer, and theater maker. She is artistic director of Slip of Steel theater company and a contributing editor of the Junket. She has also worked as a freelance journalist and writer for publications including the Sunday Times (London), the Evening Standard (London), and the Telegraph (U.K.), and has coauthored a Connell Guide on Mrs. Dalloway with John Sutherland.

Hannah Waldron is an artist and designer based between London and Stockholm. Her graphic and narrative-led image making has been applied across a range of media, from print to textiles, at both a personal and an architectural scale.
Praise For…
---
"What a beautiful book it is! A treasured possession." —Mary Beard

"No astronomy book can claim to be as beautiful as the night sky, but Stories in the Stars comes closest! I'm learning something new every day and having a lot of fun in the process." —Tristan Gooley, The Natural Navigator

"Writer and astronomy lover Hislop explores all 88 constellations and artfully tells their stories in this singular book. . . . Hislop's narratives are absorbing and often humorous. . . . Waldron's illustrations are simple yet striking, a perfect complement to the delightful written pieces. While not an atlas in the literal sense, this book is a fun and fascinating examination of the cosmos. This accessible and engrossing title is recommended for those interested in astronomy, mythology, art, or history." —Library Journal