Light from Heaven (Compact Disc)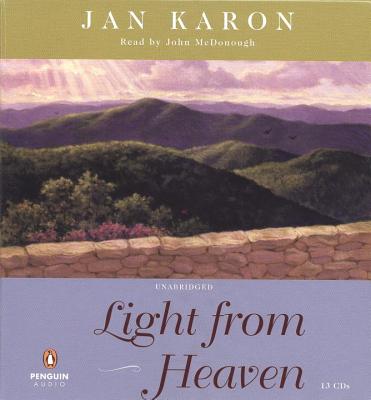 Other Books in Series
Description
---
All good things even laughter and orange marmalade cake must come to an end.
And in Light from Heaven, the long-anticipated final volume in the phenomenally successful Mitford Years series, Karon deftly ties up all the loose ends of Father Timothy Kavanagh's deeply affecting life.
On a century-old valley farm where Father Tim and Cynthia are housesitting, there's plenty to say grace over, from the havoc of a windstorm to a surprising new addition to the household and a mystery in the chicken house.
It's life on the mountaintop, however, that promises to give Father Tim the definitive challenge of his long priesthood. Can he step up to the plate and revive a remote, long-empty mountain church, asap? Or has he been called to accomplish the impossible? Fortunately, he's been given an angel in the flesh, of course.
Light from Heaven is filled with characters old and new and with answers to all the questions that Karon fans have asked since the series began nearly a decade ago. To put it simply it's her best. And we believe millions will agree.
About the Author
---
Jan Karon, born Janice Meredith Wilson in the foothills of North Carolina, was named after the title of a popular novel, Janice Meredith.Jan wrote her first novel at the age of ten. "The manuscript was written on Blue Horse notebook paper, and was, for good reason, kept hidden from my sister. When she found it, she discovered the one curse word I had, with pounding heart, included in someone's speech. For Pete's sake, hadn't Rhett Butler used that very same word and gotten away with it? After my grandmother's exceedingly focused reproof, I've written books without cussin' ever since."Several years ago, Karon left a successful career in advertising to move to the mountain village of Blowing Rock, North Carolina, and write books. "I stepped out on faith to follow my lifelong dream of being an author," she says. "I made real sacrifices and took big risks. But living, it seems to me, is largely about risk."Enthusiastic booksellers across the country have introduced readers of all ages to Karon's heartwarming books. "At Home in Mitford," Karon's first book in the Mitford series, was nominated for an ABBY by the American Booksellers Association in 1996 and again in 1997. Bookstore owner, Shirley Sprinkle, says, "The Mitford Books have been our all-time fiction bestsellers since we went in business twenty-five years ago. We've sold 10,000 of Jan's books and don't see any end to the Mitford phenomenon."