Meetings with Remarkable Men: All and Everything, 2nd Series (Paperback)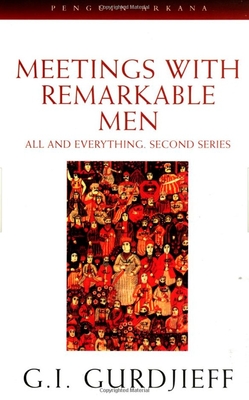 Description
---
Meetings with Remarkable Men, G. I. Gurdjieff's autobiographical account of his youth and early travels, has become something of a legend since it was first published in 1963. A compulsive "read" in the tradition of adventure narratives, but suffused with Gurdjieff's unique perspective on life, it is organized around portraits of remarkable men and women who aided Gurdjieff's search for hidden knowledge or accompanied him on his journeys in remote parts of the Near East and Central Asia.
            This is a book of lives, not doctrines, although readers will long value Gurdjieff's accounts of conversations with sages. Meetings conveys a haunting sense of what it means to live fully—with conscience, with purpose, and with heart. Among the remarkable individuals whom the reader will come to know are Gurdjieff's father (a traditional bard), a Russian prince dedicated to the search for Truth, a Christian missionary who entered a World Brotherhood deep in Asia, and a woman who escaped white slavery to become a trusted member of Gurdjieff's group of fellow seekers. Gurdjieff's account of their attitudes in the face of external challenges and in the search to understand the mysteries of life is the real substance of this classic work.
About the Author
---
G. I. Gurdjieff was born in 1887 in Alexandropol. After studying with spiritual masters in the Near East and Asia, he founded the Institute for the Harmonious Development of Man in France.