The First Eagle: A Leaphorn and Chee Novel (Paperback)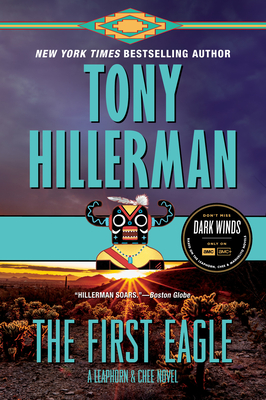 Other Books in Series
This is book number 13 in the A Leaphorn and Chee Novel series.
Description
---
Don't miss the TV series, Dark Winds, based on the Leaphorn, Chee, & Manuelito novels, now on AMC and AMC+!  
"The First Eagle displays all the strengths of Hillerman's writing: a vivid sense of place, nuanced characters, and a complex, engrossing plot."  — Washington Post
The thirteenth novel in the Leaphorn and Chee series by New York Times bestselling author Tony Hillerman.
When Acting Lt. Jim Chee catches a Hopi poacher huddled over a butchered Navajo Tribal police officer, he has an open-and-shut case—until his former boss, Joe Leaphorn, blows it wide open. Now retired from the Navajo Tribal Police, Leaphorn has been hired to find a hotheaded female biologist hunting for the key to a virulent plague lurking in the Southwest. The scientist disappeared from the same area the same day the Navajo cop was murdered. Is she a suspect or another victim? And what about a report that a skinwalker—a Navajo witch—was seen at the same time and place too? For Leaphorn and Chee, the answers lie buried in a complicated knot of superstition and science, in a place where the worlds of native peoples and outside forces converge and collide.
About the Author
---
TONY HILLERMAN served as president of the Mystery Writers of America and received the Edgar and Grand Master Awards. His other honors include the Center for the American Indian's Ambassador Award, the Spur Award for Best Western Novel, and the Navajo Tribal Council Special Friend of the Dineh Award. A native of Oklahoma, Tony Hillerman lived in Albuquerque, New Mexico, until his death in 2008.
Praise For…
---
"The First Eagle displays all the strengths of Hillerman's writing: a vivid sense of place, nuanced characters, and a complex, engrossing plot."  — Washington Post
"The two puzzles dovetail nicely, with Hillerman once again fusing mystery with an astute view of contemporary Navajo culture."  — Booklist
"The author is a master of his game." — Chattanooga Times
"Complex, engrossing...On their own, [Leaphorn and Chee] are compelling; as a duo they're the best since Lennon and McCartney." — Washington Post Book World
"Fascinating." — Dallas Morning News
"Hillerman soars." — Boston Globe
"Hillerman's trademark melding of Navajo tradition and modern culture is captured with crystal clarity in this tale of an ancient scourge's resurgence in today's world. The uneasy mix of old ways and new is articulated with resonant depth." — Publishers Weekly
"Tony Hillerman is a wonderful storyteller...Surrendering to Hillerman's strong narrative voice and supple storytelling techniques, we come to see that ancient cultures and modern sciences are simply different mythologies for the same reality." — New York Times Book Review
"The modern resurgence of the black death animates Hillerman's 14th tale featuring retired widower Navajo Tribal Police Lt. Joe Leaphorn and Acting Lt. Jim Chee... Hillerman" — Publishers Weekly