The Enchanted: A Novel (Harper Perennial Olive Editions) (Paperback)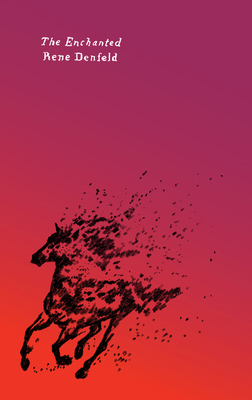 $10.00

Available from our Warehouse (Not in store currently)
Staff Reviews
---
I've never read a book anything like The Enchanted, by Rene Denfeld. I picked up the book with some hesitation. Did I want to read a book filled with magic that was narrated by someone on death row in an ancient prison? How was I supposed I believe such a thing? Still, there were these golden horses on the cover - and I could always put it down again, couldn't I? Well the truth is that I could not put the book down at all and indeed savored every word. I loved every single place this amazing work took me.
— From
Susan's Picks
Description
---
"The Enchanted wrapped its beautiful and terrible fingers around me from the first page and refused to let go after the last. A wondrous book that finds transcendence in the most unlikely of places. . . . So dark yet so exquisite." — Erin Morgenstern, author of The Night Circus
An astonishing and redemptive novel for readers of Alice Sebold and Toni Morrison, told from the point of view of a convict whose magical interpretations of prison life allow him to find absolute joy while isolated from the rest of humanity and a female investigator who experiences her own personal salvation in her work as a death penalty investigator.
This is an enchanted place. Others don't see it but I do.
The enchanted place is a high security prison and is relayed through the eyes of an inmate on death row who escapes his surroundings by immersing himself in books, and by re-imagining the world that surrounds him. Instead of focusing on the cloudy medical vines that snake across the floor, empty and waiting for the warden's finger to press the red buttons, our narrator sees golden horses as they run deep under the earth, heat flowing like molten metal from their backs.
A woman and fallen priest haunt the prison halls--an unnamed female investigator only known as the Lady who is known for discovering information relating to soon-to-be executed inmates' backgrounds that can be used to overturn their sentences. She is put on the case of a man named York and as she digs into his past, the experience brings up ghosts of her own and threatens to destroy everything that she has come to know about the enchanted place.
The Enchanted is a magical novel about redemption, the humanity that can lie within what is monstrous, and the human capacity to transcend and survive.
About the Author
---
Rene Denfeld is an internationally bestselling author, licensed investigator, and foster mother. She is the author of the novels The Butterfly Girl, The Child Finder and The Enchanted. Her novels have won numerous awards including a French Prix, and The New York Times named her a 2017 hero of the year for her justice work. She lives in Portland, Oregon.
Praise For…
---
"A striking one-of-a-kind prison novel. . . . [with] rich, haunting prose . . . A stunning first novel from an already accomplished writer."
— Publishers Weekly

"[An] impressive debut. . . . Read this magical book, and prepare to be spellbound."
— Library Journal (starred review)

"Rene Denfeld is a genius. In The Enchanted, she has imagined one of the grimmest settings in the world—a dank and filthy death row in a corrupt prison—and given us one of the most beautiful, heart-rending, and riveting novels I have ever read."
— Donald Ray Pollock, author of The Devil All The Time

"The Enchanted wrapped its beautiful and terrible fingers around me from the first page and refused to let go after the last. A wondrous book that finds transcendence in the most unlikely of places . . . So dark yet so exquisite."
— Erin Morgenstern, author of The Night Circus

"The Enchanted is unlike anything I've ever read. . . . Contagious and seductive. The reader comes to see through Denfeld's strange lens, and to savor the richness of the view long after the final page has turned."
— Katherine Dunn, author of Geek Love

"Evocative. . . . Denfeld's humanizing of the potential for horror that is within all of us and her insistence that the reader see the beauty in the darkest corners of life sizzles through her sharp prose, which both makes us flinch and invites us to imagine."
— Booklist

"The Enchanted explores the complexities of many crucial issues, including how we treat our children and the vulnerable and the consequences of our actions. It also makes us ask whether our personal behavior, social policies, and the justice system perpetuate more pain than otherwise for humanity."
— New York Journal of Books

"If you enjoy mystery and suspense as well as a bit of magic and horror you will find it all here. The story is enthralling and keeps you reading far into the night."
— Seattle Post-Intelligencer

"The Enchanted is instead a testament to the power of words, of language and symbols to reshape one's reality, and it is an extraordinarily empathetic look at the sorrows and joys of even the worst aspects of human life."
— The Oregonian