Fragile Things: Short Fictions and Wonders (Paperback)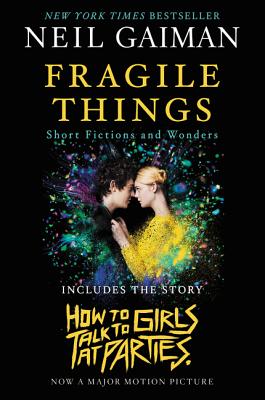 $16.99
Usually Ships in 1-5 Days
Staff Reviews
---
A delightful collection of tales eerie and odd by the inimitable Gaiman. I particularly enjoyed his extremely clever Sherlock Holmes-meets-H.P. Lovecraft story, 'A Study in Emerald', and an adventure featuring Shadow, from American Gods, in 'The Monarch of the Glen'.
— Reva
Description
---
Includes the Story "How to Talk to Girls at Parties" - Now a Major Motion Picture Starring Nicole Kidman
A24 Film Directed by John Cameron Mitchell also Stars Elle Fanning and Ruth Wilson
"A prodigiously imaginative collection. . . . The best of these clever fantasy metafictions explores the mysteries of artistic inspiration."—New York Times Book Review, Editor's Choice

Two teenage boys crash a party and meet the girls of their dreams—and nightmares . . .
A mysterious circus terrifies an audience for one extraordinary performance before disappearing into the night . . .
In a Hugo Award–winning story, a great detective must solve a most unsettling royal murder in a strangely altered Victorian England . . .
These marvelous creations and more showcase the unparalleled invention and storytelling brilliance—and the terrifyingly dark and entertaining wit—of the incomparable Neil Gaiman. By turns delightful, disturbing, and diverting, Fragile Things is a gift of literary enchantment from one of the most original writers of our time.
About the Author
---
Neil Gaiman is the #1 New York Times bestselling author of more than twenty books, including Norse Mythology, Neverwhere, and The Graveyard Book. Among his numerous literary awards are the Newbery and Carnegie medals, and the Hugo, Nebula, World Fantasy, and Will Eisner awards. Originally from England, he now lives in America.
Praise For…
---
"[Gaiman] is a one-man story engine. . . . Fragile Things is a delightful compendium . . . [Gaiman] is indeed a national treasure."
— Washington Post Book World

"The tales of Fragile Things are nibbles and bits of Gaiman's immensely satisfying inner landscape. They are fiercely playful and very grim, wisps of whimsy and wonder buoyed by the happy heart of a tragic poet."
— USA Today

"Charming, at times creepy, and good fun. . . . Well-worth adding to any collection; highly recommended."
— Library Journal

"A prodigiously imaginative collection . . . The best of these clever fantasy metafictions explore the mysteries of artistic inspiration."
— New York Times Book Review, Editor's Choice

"Strange, or sweet, or eerie, or heartfelt stories . . . wonderfully peculiar . . . Gaiman relishes the sacred act of telling stories."
— Entertainment Weekly

"A powerful and oddly unified collection, a perfect introduction to Gaiman's work for new readers and a thrilling reminder to his long-time fans . . . [T]he shorter prose form allows Gaiman a greater freedom of whimsy and provocation than even his graphic work, with stunning results."
— Toronto Star

"Those with a taste for inventive idiosyncracy will find themselves fully rewarded."
— San Francisco Chronicle Book Review

"One delight after another."
— Booklist (starred review)

"Lush prose...and a winning faith in the enchantment of stories. Expect the unexpected. Then savor the chills."
— Kirkus Reviews, starred review

"FRAGILE THINGS is a delightful compendium...[Gaiman] is indeed a national treasure."
— Washington Post Book World

"Fiercely playful and very grim, wisps of whimsy and wonder buoyed by the happy heart of a tragic poet."
— USA Today

"Readers will be reminded most in these stories of that master craftsman...Ray Bradbury...Gothic tales of high caliber."
— Baltimore Sun

"A prodigiously imaginative collection...The best of these clever fantasy metafictions explore the mysteries of artistic inspiration."
— New York Times Book Review