Further Out Than You Thought: A Novel (Paperback)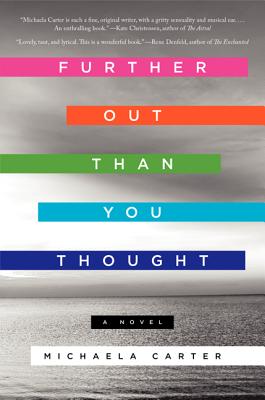 Staff Reviews
---
"Further Out Than You Thought" is a story of searching for that tenuous place where dreams and reality intermingle to create wonder and poetry. It is a joy to read, often funny and sometimes heartwrenching, but always beautiful, even when looking unflinchingly at difficult and dark things.
— Ty
August 2014 Indie Next List
---
"Like tasting a fruit for the very first time, reading Carter's novel is an experience both bracing and sumptuous, a challenge and a treat. Readers follow Gwen, who strips at a seedy bar near the airport, her boyfriend Leo, an artist propelled by impulse and oblivious to his obligations, and Count Valiant, an AIDS-afflicted lounge singer whose body ails as the Rodney King riots render LA unrecognizable. Through Carter's lyrical, sensuous, and empathetic prose, we see how their identities as women, men, drifters, artists, and friends coalesce. Their humanity is the center of this story, the constant pulse that gives the book its prodigious heart."
— Linnie Greene, Flyleaf Books, Chapel Hill, NC
Description
---
Combining the eloquence and raw sensuality of Jeanette Winterson with the romantic, renegade spirit of Patti Smith, Further Out Than You Thought is a taut and erotically charged literary debut, set against the chaos of the 1992 L.A. riots, about three people searching for identity and meaning from award-winning poet and indie bookshop co-founder Michaela Carter.
In the Neverland that is Los Angeles, where make-believe seems real, three dreamers find themselves on the verge of transformation. Twenty-five-year-old poet Gwendolyn Griffin works as a stripper to put herself through graduate school. Her perpetually stoned boyfriend Leo dresses in period costume to hawk his music downtown, and seems to be losing his already tenuous grip on reality. And their flamboyant best friend and neighbor, nightclub crooner Count Valiant, is slowly withering away.
When the city explodes in violence after the Rodney King verdict, the chaos becomes a catalyst for change. Valiant is invigorated, Leo plans a new stunt—walking into east L.A., naked, holding a white flag—and Gwen, discovering she is pregnant, is confronted by troubling questions. Can Leo become a good, dependable father? Can she leave the club life behind, or will the city's spell prove too seductive?
Combining poetry and sensuality with an edgy urban sensibility, Further Out Than You Thought is a celebration of life and a haunting story of love, friendship, and one woman's quest for redemption.
About the Author
---
Michaela Carter is an award-winning poet and writer. She studied theater at UCLA and holds an MFA in creative writing, and her poetry has been nominated for two Pushcart Prizes, won the Poetry Society of America Los Angeles New Poets Contest, and appeared in numerous journals. Recently she cofounded the Peregrine Book Company, an independent bookstore in Prescott, Arizona, where she works as a book buyer and storyteller. She lives in Prescott with her two inscrutable children and teaches creative writing at Yavapai College.
Praise For…
---
"Michaela Carter is such a fine, original writer, with a gritty sensuality and musical ear. The characters in Further Out Than You Thought are young, self-destructive, and wild, as well as vulnerable and complex. This is an enthralling book." — Kate Christensen, author of The Astral
"Further Out Than You Thought is as seductive as a velvet-curtained club, as surprising as a dancer who first peels off her clothes, then peels away her skin to reveal her shimmering, complicated heart." — Gayle Brandeis, author of The Book of Dead Birds
"Lovely, taut and lyrical—Further Out Than You Thought pulls back the curtain on a misunderstood life, showing that true nakedness is not found under strip club lights but in the reveal of a heart. This is a wonderful book." — Rene Denfeld, author of The Enchanted
"This debut from award-winning poet Carter is an unexpected gift. . . . a fable for those who remember the bad old days." — Kirkus Reviews
"Sexy, sleek and fearless, this debut simmers with vivid language and vulnerability, and is enthralling to the end. I loved it. I mean really loved it." — Jimmy Santiago Baca, award-winning poet and author of A Glass of Water